Boris' Fantastic Plastic Export Boom
Don't miss this fantastic plastic video!
Plastic waste?
In the 1970's economists typically dismissed the "Limits to Growth" report as "worthless science" and "ignorance masquerading as knowledge". Robert Solow's possibly illogical but impressively complex maths of "Eternal Growth" obscured his own ignorant limits of imagination.
"Solow and colleagues never considered outputs—waste and pollution—to be more than a nuisance. They did not imagine that greenhouse gas emissions could be so consequential as to threaten ecosystem integrity in ways that could affect growth."  C F Jones 2019
Nor was all the aggregating maths ever gonna add up to predict tsunamis of plastic, or any other waste waiting in the wings of wasted history.
Like recycling.
What a waste.
I started sorting rubbish in the early 1980's in Berlin when recycling was officially built into the system.  The new recycling regime was adopted with great enthusiasm. This produced a lot more sorted waste than expected and the carefully (re)constructed re-cycling market couldn't cope with the excess supply.
So one started to export sorted waste to be dumped or burnt "abroad".  This never stopped.  Exporting rubbish has been a growth business for 40 years.
Not just for the Exportweltmeister.
---
see also  Growth! What Growth?      Sustainability
---
animated plastic history
---
---
updates 11/2021
---
 thetimes.co.uk  24/11/2021 Eco-friendly plastic is made of oil and salmon sperm  by Rhys Blakely
…"A new plastic made from salmon sperm and vegetable oil could be the most environmentally friendly version yet invented, a team of Chinese scientists has said. It is created from short strands of DNA, the substance that carries genetic code and which forms a twisting double helix structure inside living cells. The researchers obtained their raw material from salmon sperm, although just about any living thing is a potential source…"…
---
blogs.worldbank.org/  9/11/2021  Six reasons to blame plastic pollution for climate change  by Nina Tsydenova, Pawan Patil 
…"…The impacts of mismanaged plastic waste on the climate, as well as on livelihoods and ecosystems, are an urgent development challenge.  To solve this problem, targeted, innovative circular economy approaches are needed. A circular economy approach starts at the stage of product design and selection of raw materials with an aim to develop products that are optimized for reuse, creating 'renewable resources' and minimizing the need for both the final disposal of waste and mining of virgin materials. 
The good news is that there are growing number of examples being implemented in South Asia. At all railway stations in India, tea will soon be served in perfectly biodegradable and environment-friendly earthen cups instead of plastic ones. Spider silk film and seaweed can replace plastic in various applications such as single-use sachets, which make up as much as 50 percent of all household plastic waste. In Maldives, an innovative collaboration between Parley for the Oceans and Adidas is bringing upcycled marine plastics into the global athletic wear supply chain. These sorts of innovations and partnerships show us that ground-breaking solutions for marine plastics and climate change exist and can be scaled up."
---
bbc.co.uk 14/11/2021 Plastic pollution: Can seaweed end problem? By Sarah Easedale
---
independent.co.uk/  9/11/2021 'Nurdles' pollute our oceans as hundreds of thousands of plastic pellets found on coastline – Nurdles are tiny plastic pellets used in the manufacture of larger plastic products, as Ella Glover explains. Hundreds of thousands of plastic pellets, known as nurdles, have been found on the coastlines of 21 countries that took part in a pollution survey.
---
bbc.co.uk  4/11/2021  Wishcycling: The dos and don'ts of being good at recycling  Helen Briggs
---
theconversation.com  2/1//2021  Oil companies are ploughing money into fossil-fuelled plastics production at a record rate – new research – by  Fredric Bauer, Tobias Dan Nielsen 
We have researched sustainable plastics for several years. And we have long argued that the climate impacts of plastics and petrochemicals production are being neglected, as the debate so far has mainly focused on later stages of plastic life-cycles. This resulted in a research project in which we mapped and analysed the fossil lock-ins of plastics and petrochemicals.
More recently, we investigated major plastics producers and the investments they are making which are likely to increase the production of fossil-based virgin plastics around the world. We discovered that the 12 largest petrochemical companies have cumulatively announced 88 new projects for production capacity increase and infrastructure expansion between 2012 and 2019. This is indicative of a global trend of increasing investments in the chemical industry, with available data for key regions showing that total investments more than doubled from 2007 to 2019, reaching levels we estimate have not been seen before.
These new and expanded facilities will operate for decades once they are opened, adding to the current greenhouse gas emissions of the chemical industry – which are already the third largest of all industries. …
Plastics therefore suffer from a severe case of "carbon lock-in" – a dependence on fossil fuel resources which is continually reinforced through technology, infrastructure, institutions and behaviour.
The IPCC recently warned that irreversible effects of intensifying climate change are imminent and that the agreed targets of limiting global warming to 1.5 or 2 degrees are soon beyond reach. At this point in time, all sectors of the global economy ought to be on track to reduce their use of fossil fuel resources, especially the most energy and emissions-intensive industries, which include cement, steel and chemicals.
From energy efficiency improvements and switching to renewable energy to improving circularity and recycling, there are plenty of opportunities for the industry to invest in solutions for a cleaner environment, as identified by the IEA. Yet only very few of the plastics and chemical firms have set emission reductions targets aligned with the Paris agreement.
There is a great need to move beyond words and small incremental changes, and take larger steps towards low-carbon and sustainable plastics. Working seriously on how to get there entails many different changes. The industry must trust and plan for a future in which the majority of plastics will be produced from recycled rather than virgin material. As for the virgin materials used, they should come from sustainably sourced biomass and other alternative feedstocks, and all energy used must be low-carbon. Carbon capture could be a solution for the remaining fossil-based production and emissions which cannot be mitigated soon enough – including from chemical recycling plants.
At the top of their list should be collaborating with partners throughout the industry as well as researchers, decision-makers, consumers, and civil society to produce reliable roadmaps and strategies on how to transition towards a sustainable plastic system. A convention on plastic pollution is emerging, but global meetings on climate change, such as COP26, need to focus more attention on the somewhat overseen issue of petrochemicals.
Meanwhile, at Yushan island, tankers with crude oil from Saudi Arabia will dock regularly and pump their cargo into steam crackers that will run 24/7 for decades. Naming it the Green Petrochemical Base does nothing to change the fundamentals of the industry and its modus operandi. Plastics are locked into fossil resources and this connection continues to grow stronger by the day."…
---
reuters.com  28/10/2021  TRASH AND BURN – BIG BRANDS STOKE CEMENT KILNS WITH PLASTIC WASTE AS RECYCLING FALTERS – Consumer goods giants are funding projects to send plastic trash to cement plants, where it is burned as cheap energy. They're touting it as a way to keep plastic out of dumps and use less fossil fuel. Critics say it undercuts recycling efforts and worsens air quality. One said it was "like moving the landfill from the ground to the sky."   By JOE BROCK, YUDDY CAHYA BUDIMAN, JOHN GEDDIE, VALERIE VOLCOVICI
"Less than 10% of all the plastic ever made has been recycled, in large part because it's too costly to collect and sort. Plastic production, meanwhile, is projected to double within 20 years."
…"… Critics say there's little green about burning plastic, which is derived from oil, to make cement. A dozen sources with direct knowledge of the practice, among them scientists, academics and environmentalists, told Reuters that plastic burned in cement kilns emits harmful air emissions and amounts to swapping one dirty fuel for another. More importantly, environmental groups say, it's a strategy that could potentially undercut efforts spreading globally to boost recycling rates and dramatically slash the production of single-use plastic…"
---
huffingtonpost.co.uk   26/10/2021 Where Does All Our Plastic Recycling Actually Go? – The PM claims plastic recycling isn't worth it – so here's breakdown of what the UK actually does with all of our discarded materials.
By Kate Nicholson 
…"…What should we do? Greenpeace still encourages the public to continue recycling, but it is pushing for the government to drop all single-use plastic. The campaign group claims Downing Street's previous pursuits against plastic straws and cotton bud sticks have little impact. Greenpeace's Maja Darlington also told HuffPost UK that Johnson is right in that recycling alone is not the answer. She said: "We will not be able to recycle our way out of this mess. We need to turn off the tap of plastic pollution, and move to a system which prioritises reuse."…"
---
plastichealthsummit.org  10/2021  Plastic Health Summit  pdf download  speakers:
independent.co.uk   9/2021  Plastic waste is the next asbestos – WHO should declare it a public health emergency – While there is global agreement to curb plastic's impact, production continues to rise – by Maria Westerbos
---
thetimes.co.uk  21/10/2021 Microplastics in blood of farm animals by Peter Chappell
Microplastics have been found in the blood of cows and pigs in a study that raises questions over the food chain. Research at Vrije University in Amsterdam is believed to be the first to show that microplastic particles can be absorbed into the blood of mammals. Heather Leslie Vrije University 
---
phys.org   19/10/2021  How a bacterium may help solve the plastic pollution crisis  In a recent study published in Scientific Reports, researchers from Nara Institute of Science and Technology revealed a bacterium that is not only able to degrade difficult-to-recycle petroleum-based plastics but can also sustainably produce more environmentally friendly biodegradable plastics.
---
theconversation.com/  14/10/2021 The plastic recycling system is broken – here's how we can fix it  Eleni Iacovidou
…"The investor Warren Buffett once remarked that "only when the tide goes out do you discover who's been swimming naked". For the plastics recycling industry, the pandemic was a bit like the tide going out, exposing its deep-rooted structural problems. Specifically, COVID-19 exposed the plastics recycling sector's vulnerability to oil-price changes. Economic shutdown driven by the pandemic led to reduced global oil demand, which in turn caused oil prices to plunge. This shifted manufacturers' preference towards making new plastic, increasing the cost of recycling plastics in the first place.  Changes like this are leading to increasing pollution from new plastic production, with negative consequences for the health of our planet. In the short term, it could also threaten the livelihoods of those working in plastic waste management across the world. And in the long term, it could result in lower investment in the recycling sector, as companies may be wary of risking financial loss. …"…
---
bbc.co.uk/  28/9/2021 Climate Change: Don't sideline plastic problem, nations urged  By Roger Harrabin
"Scientists are warning politicians immersed in climate change policy not to forget that the world is also in the midst of a plastic waste crisis. They fear that so much energy is being expended on emissions policy that tackling plastic pollution will be sidelined. … the issues are actually intertwined – and each makes the other worse. … (ZSL's Prof Heather Koldewey) is urging world governments and policy makers to put nature at the heart of all decision making in order to jointly tackle the combined global threats of climate change and biodiversity loss. "…
---
hakaimagazine.com   20/9/2021 Scooping Plastic Out of the Ocean Is a Losing Game – Open ocean cleanups won't solve the marine plastics crisis. To really make a difference, here's what we should do instead.  by Ryan Stuart
…"There is a harsh reality that all of us concerned with the mounting ocean plastic problem must confront: the vast majority of the plastic in the ocean is too small or too out of reach to ever be cleaned up. It is suspended in the water column, settled on the ocean floor, or degraded into microscopic particles that are difficult to detect, let alone collect. That realization is vital. With the plastic pollution problem growing increasingly dire, and with so many potential solutions on offer—all competing for limited funding, resources, and public support—it is more urgent than ever to focus on the approaches that are most likely to succeed. …
The unfortunate reality is that there is no key to cleaning up the ocean. The solution is not flashy or sensational. It's not an entrepreneur with a big idea—a person we can look to as the one who will solve the problem. It's the boring stuff: when you use plastic, dispose of it properly. If you want to do more, help clean up a river, harbor, or beach. But really, we need to slow the flow of garbage trucks. Because right now, they're speeding up. We are using more plastic every year. By 2050, the garbage trucks could be unloading every 15 seconds instead of every minute. We don't have all that long before the ocean is teeming with more plastic than fish."
---
nypost.com  16/9/2021  Ocean Cleanup struggles to fulfill promise to scoop up plastic at sea
…"The non-profit, launched in 2013 amid buoyant media coverage, hopes to clear 90% of floating plastic from the world's oceans by 2040. But the group's own best-case scenario — still likely years away — envisions removing 20,000 tonnes a year from the North Pacific, a small fraction of the roughly 11 million tonnes of plastic flowing annually into the oceans. And that amount entering the ocean is expected to nearly triple to 29 million tonnes annually by 2040, according to the Pew Charitable Trusts. "….
---
globalcitizen.org/  31/8/2021    The Plan to Stop the Plastic Crisis Is Gaining Momentum – And you can join the push to clean our planet today.   by Joe McCarthy
---
recycling-magazine.com/  31/8/2021  Billion investment in plastic recycling in Sweden – Swedish Plastic Recycling (Svensk Plaståtervinning) is investing in building the world's largest and most modern facility for plastic recycling, Site Zero.
---
BBC4 iplayer  23/8/2021 Plastic  In a new show produced by Jon Holmes, Comedian (and actual council Waste Education Officer) Jon Long and Biologist Gillian Burke take on green issues in this fast paced new enviro-comedy. The topic – Plastic. Scourge of the planet, or synthetic scapegoat? Featuring sketches, songs, and expert interviews. Tonnes of questions, and even one or two answers. Producer: Jon Holmes An unusual production for BBC Radio 4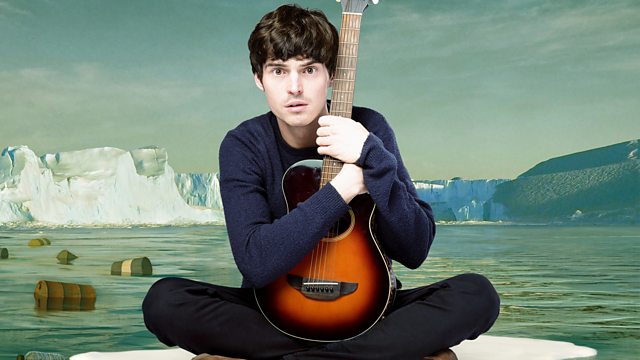 ---
bbc.co.uk/iplayer   3/2021 The coronavirus pandemic's led to a huge increase in plastic waste, six or seven times higher in some countries. It's partly down to obvious things like the massive global demand for PPE (Personal Protective Equipment). There are other pressures too, like lower oil prices, which help manufacturers make things more cheaply. For years the focus has been on trying to cut down how much we end up throwing away for landfill. The UK Plastics Pact – a group of businesses, organisations and governments – say they're focused on trying to cut down on plastic packaging and encourage new tech and recycling ideas for the future. Scientists are busy coming up with new ideas on what to do with plastic – it's even being tested as a building material. But after 2020 – and the possible effects Covid has had on that progress – what now for the relationship between Earth and her former favourite? Is it heading to the end – or can plastic find a future?
---
bbc.co.uk 19/7/2021  Using plastic waste to help solve sand shortages  By Bernd Debusmann
This means that sand is typically dredged from rivers, and due to the environmental damage this causes a number of countries have introduced bans in recent years – including India, Cambodia and Vietnam. The knock-on impact has been supply issues in nations undergoing construction booms such as China and India, which have the largest and second-largest construction sectors. Shortfalls of sand in India continue to fuel a big increase in illegal sand mining, controlled by criminal gangs, known as "sand mafias", These groups have been linked to dozens of murders, including the 2015 killing of investigative journalist Jagendra Singh.
"People don't comprehend, or it doesn't strike them, that there is a shortage [of sand]," says Shobha Bhatia, a professor of civil and environment engineering at Syracuse University. …
"We found that you can replace up to 10% of the sand in concrete with the plastic, and it has the same strength and the same longevity," says Dr John Orr. Unlike sand, plastic won't stick to the cement paste around it, so it can only replace 10% of the raw material, he says. "But that still saves the need for a huge amount of sand, and helps to reduce the vast amount of plastic waste on India's streets. …
"Sand is really just a symptom of a larger problem. It's not just that we're using too much sand, but we're using too much of everything (says  Vince Beiser). "We're using up all the planet's resources at a rate that cannot continue." "We should be looking for solutions that address the main problem – overconsumption of natural resources – rather than asking what one can do about sand, and then separately about climate change or traffic. "A lot of these problems are interconnected and the solutions have to be as well."
---
wired.co.uk   9/7/2021  How LEGO perfected the recycled plastic brick  –  After 72 years and billions of interlocking polymer toy bricks, at last the company has an eco alternative
…"What's more, the vast majority of those 110 billion bricks, as much as 80 per cent, were made from acrylonitrile-butadiene-styrene, or ABS, a petroleum-based thermoplastic prized for its strength and rigidity. ABS does not like being recycled because it loses those sturdy qualities. Such is the resilience of ABS, it takes lifetimes to break down, meaning whatever is made from the stuff will be hanging around on our planet for an awfully long time.   This is why, in 2015, after 66 years of pumping out vast quantities of unrecyclable interlocking toy bricks and perhaps sensing the impending plastic backlash, LEGO announced it was putting $155 million of its huge income (2019 revenue hit $7 billion) into a new Sustainable Materials Centre. …"…
---
plastic realities
---
---
Waste recycling is window-dressing because not all plastics are equal
---
phys.org   7/2021   Is global plastic pollution nearing an irreversible tipping point?
by Stockholm University
…"Rates of plastic emissions globally may trigger effects that we will not be able to reverse, argues a new study by researchers from Sweden, Norway and Germany published on July 2nd in Science. According to the authors, plastic pollution is a global threat, and actions to drastically reduce emissions of plastic to the environment are "the rational policy response".
Plastic is found everywhere on the planet: from deserts and mountaintops to deep oceans and Arctic snow. As of 2016, estimates of global emissions of plastic to the world's lakes, rivers and oceans ranged from 9 to 23 million metric tons per year, with a similar amount emitted onto land yearly. These estimates are expected to almost double by 2025 if business-as-usual scenarios apply.
"Plastic is deeply engrained in our society, and it leaks out into the environment everywhere, even in countries with good waste-handling infrastructure," says Matthew MacLeod, Professor at Stockholm University and lead author of the study. He says that emissions are trending upward even though awareness about plastic pollution among scientists and the public has increased significantly in recent years.
That discrepancy is not surprising to Mine Tekman, a Ph.D. candidate at the Alfred Wegener Institute in Germany and co-author of the study, because plastic pollution is not just an environmental issue but also a "political and economic" one. She believes that the solutions currently on offer, such as recycling and cleanup technologies, are not sufficient, and that we must tackle the problem at its root.
"The world promotes technological solutions for recycling and to remove plastic from the environment. As consumers, we believe that when we properly separate our plastic trash, all of it will magically be recycled. Technologically, recycling of plastic has many limitations, and countries that have good infrastructures have been exporting their plastic waste to countries with worse facilities. Reducing emissions requires drastic actions, like capping the production of virgin plastic to increase the value of recycled plastic, and banning export of plastic waste unless it is to a country with better recycling" says Tekman. …" …
---
genevaenvironmentnetwork.org    6/2021 Facing the Plastic Pollution Crisis
The world is facing a plastic crisis, the status quo is not an option. Plastic pollution is a serious issue of global concern which requires an urgent and international response involving all relevant actors at different levels. This page aims at listing relevant information, research, data and/or press releases issued by our partners in Geneva and other institutions around the world.
Of all the plastic that ever existed: more than half was produced in the last 15 years and 91% has never been recycled. The Story of Plastics
A Glimpse on the Global Plastic Crisis
---
phys.org/news   2020  The plastic myth and the misunderstood triangle by Kate Raynes-Goldie
Of all the plastic we've ever produced, only 9% has been recycled. So what happened to all that plastic you've put in the recycling bin over the years?  Hands up if you grew up thinking that recycling plastic waste is key to saving the environment. It turns out that for decades the recyclability of plastics was grossly oversold by the plastics industry. 
The creation of this recycling myth is why, despite 30 years of being diligent recyclers, we have things like the Great Pacific Garbage Patch.  In fact, we've only recycled 9% of all the plastics we've ever produced. And, our use of plastics is still increasing every year. The reality of the situation is that recycling plastics is actually really hard and expensive.
---
fastcompany.com/   2020  recycling wrong solution by Don Norman "I am proud to be one of the developers of what is today called human-centered design. That is design that always starts off understanding the needs, capabilities, and desires of people. It has four basic principles, all four of which are being violated by today's recycling craze.
---
livescience.com  2020   How much plastic actually gets recycled?  Recycling doesn't always give your plastic bottle new life – "In most of the country, most types of plastic are not recyclable"  by Isobel Whitcomb 
… "A recent report  released by Greenpeace surveyed the United States' 367 materials recovery facilities — the facilities that sort our recycling — and found that only plastic bottles are regularly recycled. The fate of most other types of plastic, from clamshells to packaging, is usually a landfill or incineration.
… Not all plastic is created equal …  is recycling worth it? For bottles labeled "1" or "2", the answer is "yes," Pochiro said. There's also a growing market for plastics labeled "5," a flexible plastic that includes mini-yogurt containers. An increasing percentage of fives are actually getting recycled. For other numbers, it's important to check the restrictions of your local recycling facility, Pochiro said.  –  Hocevar's answer was simpler: a resounding "no" on numbers 3, 4, 6 and 7. These plastics just gunk up an already strained recycling system, he said.  "It does more harm than good," Hocevar said." …
---
theguardian.com  2020  The solution to the plastic waste crisis? It isn't recycling – There's no way of making current levels of consumption 'environmentally friendly'   by John Vidal
"But would it really make much difference if … the 359m tonnes of plastic that the world makes a year, was recyclable? Is the type of plastic the problem, or is it the fact that we are overwhelmed with vast quantities of waste we cannot process? The question is barely raised by the Green Alliance, whose new report, paid for by some of Britain's biggest plastic recyclers, laments that people are confused about what can be recycled or composted."
---
insider.com   2019   MIT researcher Andrew MCafee says recycling-is-useless  … and he's probably right –  Recycling plastic uses up a lot of resources, and after all the hauling around, sorting, and processing of bottles and containers, it often ends up getting thrown away or burned. MIT business researcher Andrew McAfee says we'd be better off putting our plastic waste into well-managed landfills.  He argues we should spend our "mental budget for thinking about the Earth on more high-impact changes," like carbon taxes on major polluters and nuclear energy.
---
plastic export 
---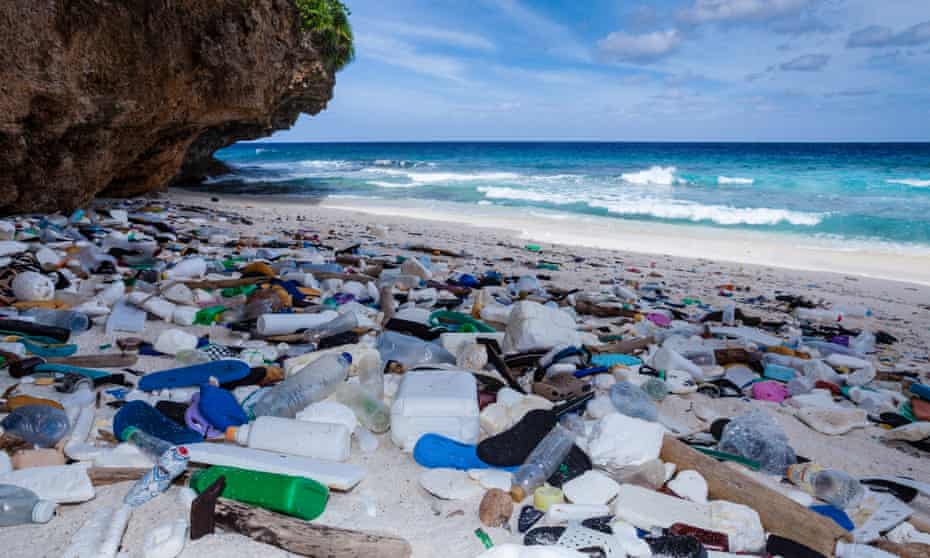 ---
bbc.co.uk  17/5/2021 UK plastic waste being dumped and burned in Turkey, says Greenpeace – by Kathryn Snowdon
---
theguardian.com   27/5/2021  Call for G7 Cornwall summit to forge global plastic pollution treaty – Nestlé and UK supermarkets sign open letter calling for G7 nations to show leadership this June
---
euractiv.com   5/2021 Stop exporting plastic waste out of Europe, EU lawmakers say – Thirty-one lawmakers in the European Parliament have signed a manifesto calling for the end of plastic waste exports outside Europe and the facilitation of intra-EU shipment procedures to promote a genuine circular economy within the EU.
---
advances.sciencemag.org  4/2021 More than 1000 rivers account for 80% of global riverine plastic emissions into the ocean – Lourens J. J. Meijer, Tim van Emmerik, Ruud van der Ent, Christian Schmidt ,Laurent Lebreton
Plastic waste increasingly accumulates in the marine environment, but data on the distribution and quantification of riverine sources required for development of effective mitigation are limited. Our model approach includes geographically distributed data on plastic waste, land use, wind, precipitation, and rivers and calculates the probability for plastic waste to reach a river and subsequently the ocean. This probabilistic approach highlights regions that are likely to emit plastic into the ocean. We calibrated our model using recent field observations and show that emissions are distributed over more rivers than previously thought by up to two orders of magnitude. We estimate that more than 1000 rivers account for 80% of global annual emissions, which range between 0.8 million and 2.7 million metric tons per year, with small urban rivers among the most polluting. These high-resolution data allow for the focused development of mitigation strategies and technologies to reduce riverine plastic emissions.
---
independent.co.uk/   4/2021 Even in the far reaches of the Indian Ocean we can't escape plastic waste – we need coordinated action to tackle it – The most dire projections suggest our seas may contain more weight in plastics than fish by the year 2050 – we need creative measures on land and at sea to reduce it  by Rita Issa
---
phys.org  4/5/2021  Plastic pollution in the deep sea: A geological perspective –  Geological Society of America – A new focus article in the May issue of Geology summarizes research on plastic waste in marine and sedimentary environments. 
theoceancleanup.com  2021  The Great Pacific Garbage Patch is the largest accumulation of ocean plastic in the world and is located between Hawaii and California. Scientists of The Ocean Cleanup have conducted the most extensive analysis ever
---
mapbox.com/blog/tackling-ocean-plastic-pollution-in-4-maps
---
bbc  marine debris  Photographer Mandy Barker – "Where Noon Wears a Watch"
---
---
How about raking and compounding the big plastic patches into islands of sufficient floating mass to carry, well, art festivals or energy farms, perhaps?
---
earther.gizmodo.com   2021  Archaeologists Uncover Disturbing Amount of Plastic Waste at Iron Age Site  by George Dvorsky
---
bbc.co.uk/   2021  Plastic pollution: Bangor University researchers get samples in wine bottles By Catherine Evans  –  "She said getting local swim groups to become waterloggers for microplastics research was useful because "people who love the place where they swim know they need to take to protect it and are more likely to be horrified if they find it in their local swim spot."
---
smithsonianmag.com   2019   Found: A Bees' Nest Built Entirely of Plastic Waste – It could be a sign of bees' adaptability to a changing environment—but the habit might also be causing them harm  by Brigit Katz,
---
theguardian.com   2021   Pervasive' plastic pollution in the Arctic – Polyester fibres that injure marine life were found in sea water across region.  The Arctic is "pervasively" polluted by microplastic fibres that most likely come from the washing of synthetic clothes by people in Europe and North America, research has found.
---
theconversation.com  15/3/2021  Plastic warms the planet twice as much as aviation – here's how to make it climate-friendly   by Laurie Wright
We're all too aware of the consequences of plastics in the oceans and on land. However, beyond the visible pollution of our once pristine habitats, plastics are having a grave impact on the climate too. Newly published research calculates that across their lifecycle, plastics account for 3.8% of global greenhouse gas emissions. That's almost double the emissions of the aviation sector. If it were a country, the "Plastic Kingdom" would be the fifth-highest emitter in the world.
---
the conversation.com  2018  Plastic is now part of our planet's fabric – a scientist and archaeologist discuss what happens next   Sharon George, Matt Edgeworth   –  A brief history of plastics –
---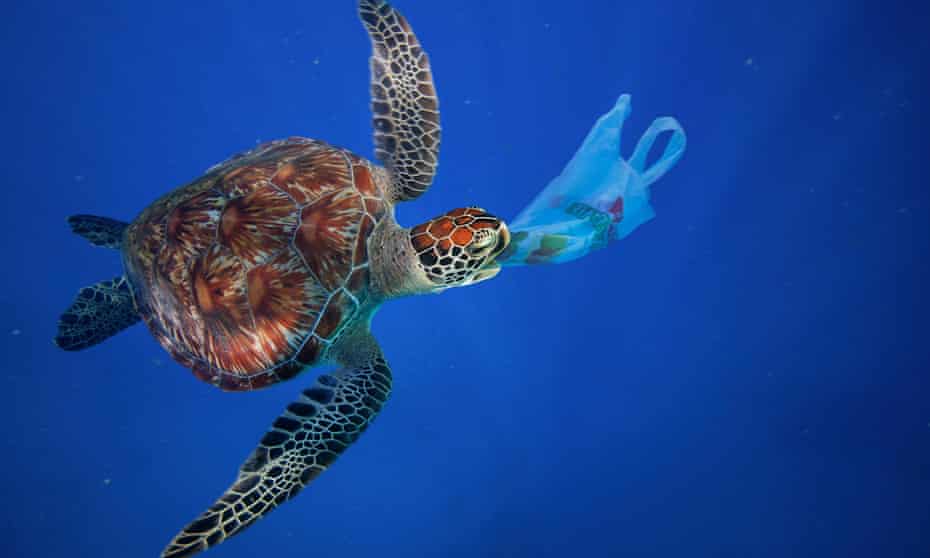 theguardian.com/  2020  The plastic we use unthinkingly every day is killing our planet – and slowly but surely killing us   by Andrew Paris  –  As researchers, we have been shocked to find the most remote depths of the Pacific Ocean polluted by our plastic. And it will outlive us all. 
---
theguardian.com  2019  The missing 99%: why can't we find the vast majority of ocean plastic? What scientists can see and measure, in the garbage patches and on beaches, accounts for only a tiny fraction of the total plastic entering the water. 
…"What we commonly see accumulating at the sea surface is "less than the tip of the iceberg, maybe a half of 1% of the total," says Erik Van Sebille, an oceanographer at Utrecht University in the Netherlands.
… Nanoplastic research is still in its infancy. But laboratory tests show that unlike microplastics, nanoplastics are small enough to accumulate within the bloodstreams and cell membranes of a range of organisms, even passing the blood-brain barrier in a test on Japanese medaka fish, and cause various toxic effects, including neurological damage, and reproductive abnormalities.
"This question of where is all the plastic in the sea … For 40 years we sought out plastic we could see. Now we reach the nanoscale, which is very particular, very reactive, and we have to begin again," says Ter Halle.
---
https://www.independent.co.uk/climate-change/world-oceans-day-plastic-pollution-b1861581.html
---
microplastics
---
Scientists reached one of the ocean's deepest points and still found plastic
---
nationalgeographic.com  2020  Microplastics have moved into virtually every crevice on Earth – A collection of new research provides more clues about where and how microplastics are spreading.  by Laura Parker
---
ox.ac.uk/news/    26/5/2021  ocean plastic can get a boost to its wave-induced transport because of its size – 
Plastic pollution and other ocean debris are a complex global environmental problem. Every year, ten million tonnes of plastic are estimated to be mismanaged, resulting in entry into the ocean, of which half will float initially. Yet, only 0.3 million tonnes of plastic can be found floating on the surface of the ocean. Where has the rest of the plastic gone?  'Although anyone walking on the beach will know waves transport floating debris towards the shore, the rate at which they do so depends on many factors that existing models, which are highly simplified, ignore." says Ton van den Bremer …"      read journal article here
---
academictimes.com   4/2021  Biodegradables could be worse than regular plastics in an important way  By Asher Jones
---
biotechniques.com   3/2021 Microplastic and antibiotic-resistant bacteria: the double threat  by Lucy Shard
… Prof Mengyan Li : "These wastewater treatment plants can be hotspots where various chemicals, antibiotic-resistant bacteria and pathogens converge and what our study shows is that microplastics can serve as their carriers, posing imminent risks to aquatic biota and human health if they bypass the water treatment process."
Microplastic and antibiotic-resistant bacteria: the double threat
---
bbc.co.uk/   4/2021  How is bacteria being used to tackle microplastic pollution?
Microplastics are a big problem when it comes to protecting the environment. They pollute the world's oceans and can be very damaging to sea creatures and other animals. Microbiologists at the Hong Kong Polytechnic University (PolyU) have come with a clever way of removing these tiny pieces of plastic from the environment, and it involves the use of bacteria!  Researchers at PolyU believe the sticky bacteria could be used to form microbe nets that can trap microplastics in polluted water.
---
nature.com  5/2021  Microplastics are everywhere — but are they harmful?  Scientists are rushing to study the tiny plastic specks that are in marine animals — and in us.  by XiaoZhi Lim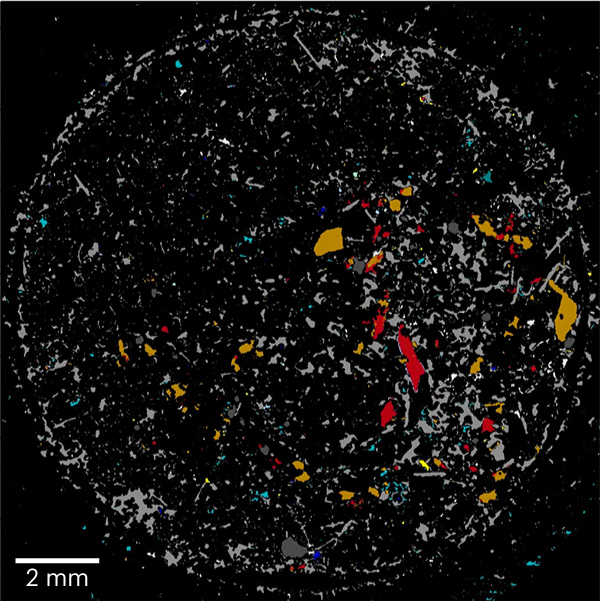 … "The tiniest specks, called nanoplastics — smaller than 1 micrometre — worry researchers most of all (see 'Microplastics to scale'). Some might be able to enter cells, potentially disrupting cellular activity. But most of these particles are too small for scientists even to see; they were not counted in Koelmans' diet estimates, for instance, and California will not try to monitor them. …
For the moment, levels of microplastics and nanoplastics in the environment are too low to affect human health, researchers think. But their numbers will rise. Last September, researchers projected15 that the amount of plastic added to existing waste each year — whether carefully disposed of in sealed landfills or strewn across land and sea — could more than double from 188 million tonnes in 2016 to 380 million tonnes in 2040. By then, around 10 million tonnes of this could be in the form of microplastics, the scientists estimated — a calculation that didn't include the particles continually being eroded from existing waste.
It is possible to rein in some of our plastic waste, says Winnie Lau at the Pew Charitable Trusts in Washington DC, who is the first author on the study. The researchers found that if every proven solution to curb plastic pollution were adopted in 2020 and scaled up as quickly as possible — including switching to systems of reuse, adopting alternative materials, and recycling plastic — the amount of plastic waste added could drop to 140 million tonnes per year by 2040.
By far the biggest gains would come from cutting out plastics that are used only once and discarded. "There's no point producing things that last for 500 years and then using them for 20 minutes," Galloway says. "It's a completely unsustainable way of being."
---
theguardian.com   3/2021   Plastic particles pass from mothers into foetuses, rat study shows – Nanoparticles found in foetal brains and hearts, but impact on human health is as yet unknown by Damian Carrington
Tiny plastic particles in the lungs of pregnant rats pass rapidly into the hearts, brains and other organs of their foetuses, research shows. It is the first study in a live mammal to show that the placenta does not block such particles.  The experiments also showed that the rat foetuses exposed to the particles put on significantly less weight towards the end of gestation. The research follows the revelation in December of small plastic particles in human placentas, which scientists described as "a matter of great concern". Earlier laboratory research on human placentas donated by mothers after birth has also shown polystyrene beads can cross the placental barrier.   Microplastic pollution has reached every part of the planet, from the summit of Mount Everest to the deepest oceans, and people are already known to consume the tiny particles via food and water, and to breathe them in.
Demand is set to rise, too. At 380m tonnes a year, we produce 190 times more plastic than we did in 1950. If the demand for plastic continues to grow at its current rate of 4% a year, emissions from plastic production will reach 15% of global emissions by 2050.  More than 99% of plastics are manufactured from petrochemicals, most commonly from petroleum and natural gas. These raw materials are refined to form ethylene, propylene, butene, and other basic plastic building blocks, before being transported to manufacturers.
---
paying for cost of plastics
---
As with any product the negative cost to the ecosystem or human health should be in the price. But it isn't.
---
theconversation.com    3/2021   Plastic is part of the carbon cycle and needs to be included in climate calculations
---
bbc.co.uk   3/2021   Plastic pollution: Is the drinks industry doing enough to reduce single-use plastics?
---
ecowatch.com/   2021 Why Plastic Pollution Is a Producer Responsibility  By Alex Truelove
We're all culprits in the plastic pollution crisis — and that's by design.  I was reminded of this recently when I ordered a set of carbon filters for my countertop compost bin. (Like most people, I don't care for smelly kitchens.) The package arrived in a layered-plastic bubble envelope. Inside I found another clear plastic bag encasing the filters. Finally, adding insult to injury, each filter was wrapped individually in plastic. That made at least three layers of plastic for each filter.
Frustratingly, in an effort to reduce waste, I had created more. And I'm not alone. A recent landmark study confirmed that the United States is the most plastic-polluting country in the world. Every 16 hours Americans throw away enough plastic to fill a football stadium.  Adding to my frustration was a sense of helplessness. There was no way I could have known or changed the fact that these products were shrouded in layer upon layer of disposable plastic packaging. 
I know millions of Americans feel the same way. …
But what if … companies were held responsible for their products? Would it prevent the onslaught of plastic junk filling up our landfills and too often ending up in the ocean? History suggests manufacturers would design products to be more reusable, repairable and resilient, because they'd want to limit the waste they would have to manage.
Which brings us to an idea known as producer responsibility.
Producer responsibility programs have existed around the world for decades and have successfully increased collection, recycling and reuse for the products they cover. For the most part these programs regulate hazardous, hard-to-dispose-of products such as batteries, paint, mercury thermostats, carpet, pesticides, tires and pharmaceuticals. Dozens of states already have programs in place for these items."
---
plastic production 
---
theguardian.com    5/2021  Twenty firms produce 55% of world's plastic waste, report reveals – Plastic Waste Makers index identifies those driving climate crisis with virgin polymer production
---
onegreenplanet.org  6/2021 Petition:  20 Companies are Responsible for Most Plastic Waste – They Must Switch to Sustainable Alternatives Now! By Shelby Hettler
---
The recycling problem has a lot to do with there being so many different types of plastic.
Too many. And none designed for recycling. 
---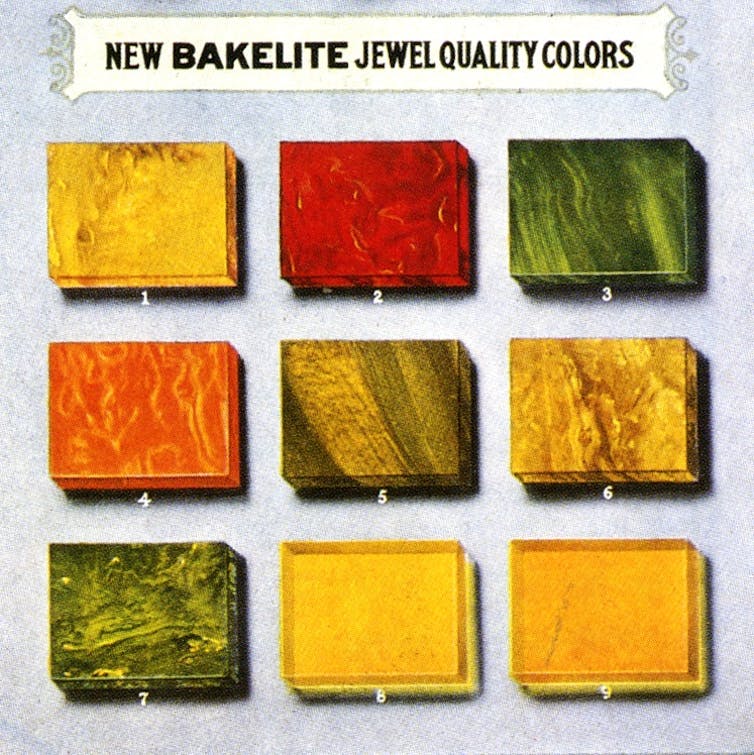 ---
ALTernative plastic futures
---
bbc.co.uk   30/07/2021  The fungus and bacteria tackling plastic waste – By accident Samantha Jenkins discovered the plastic eating properties of one fungus  By Emma Woollacott
…"The fungus had eaten its way through the plastic sponge intended to seal it in, breaking it down and assimilating it like any other food. The aim of the project was to evaluate a number of strains of fungus for use in bio-based insulation panels, but the hungry fungus has taken them in another direction. Biohm is now working to develop the strain to make it an even more efficient digester that could potentially help get rid of plastic waste."…
---
chemistryworld.com  10/6/2021 Genetically engineered microbes convert waste plastic into vanillin
BY Jack Washington
Scientists in the UK have genetically engineered Escherichia coli to transform plastic waste into vanillin. 'Instead of simply recycling plastic waste into more plastic, what our system demonstrates for the first time is that you can use plastic as a feedstock for microbial cells and transform it into something with higher value and more industrial utility,' says Stephen Wallace from the University of Edinburgh. The biotransformation 'isn't just replacing a current chemical process, it's actually achieving something that can't be done using modern synthetic methods.'
Polyethylene terephthalate (PET) is one of the most widely used types of plastic. Most existing recycling technologies degrade PET into its substituent monomers, ethylene glycol and terephthalic acid, then repurpose them in second-generation plastic materials. Wallace and Joanna Sadler, also at the University of Edinburgh, want to upcycle these monomers into alternative products.
---
phys.org/news/  6/2021  'Vegan spider silk' provides sustainable alternative to single-use plastics
The researchers, from the University of Cambridge, created a polymer film by mimicking the properties of spider silk, one of the strongest materials in nature. The new material is as strong as many common plastics in use today and could replace plastic in many common household products.
---
phys.org/news  4/2021   The future looks bright for infinitely recyclable plastic from Berkeley Lab
"Plastics are a part of nearly every product we use on a daily basis. The average person in the U.S. generates about 100 kg of plastic waste per year, most of which goes straight to a landfill. A team led by Corinne Scown, Brett Helms, Jay Keasling, Kristin Persson at Lawrence Berkeley National Laboratory set out to change that.  …
"These days, there is a huge push for adopting circular economy practices in the industry. Everyone is trying to recycle whatever they're putting out in the market," said Vora. "We started talking to industry about deploying 100% percent infinitely recycled plastics and have received a lot of interest."
Plastics were never designed to be recycled. The need to do so was recognized long afterward," explained Nemi Vora, first author on the report and a former postdoctoral fellow who worked with senior author Corinne Scown. "But driving sustainability is the heart of this project. PDKs were designed to be recycled from the get-go, and since the beginning, the team has been working to refine the production and recycling processes for PDK so that the material could be inexpensive and easy enough to be deployed at commercial scales in anything from packaging to cars."
---
bbc.com/ 12/5/2021  The world's first 'infinite' plastic   By Katherine Latham
"The way we normally recycle plastics is a downward spiral of waste and degraded materials, but there is another option – turning plastic back into the oil it was made from.  There is one man-made material that you can find in the earth, the air and in the deepest ocean trenches. It is so durable that the majority of what has been created is still present in our ecosystem. Having made its way into the food chain, it permeates our bodies, flowing from our blood into our organs, even finding its way into the human placenta.
It is of course plastic, and this durability is also what makes the material so useful. Cables stretching across ocean floors, water pipes under the ground and packaging that keeps food fresh all rely on this property.
Efficiently recycling plastic by conventional means is notoriously difficult, and only 9% of all plastic ever made has been recycled into new plastics. But what if there was a way to turn plastic back into the stuff it was made from? The "next grand challenge" for polymer chemistry – the field responsible for the creation of plastics – is learning to undo the process by turning plastics back into oil.
This process – known as chemical recycling – has been explored as a viable alternative to conventional recycling for decades. So far, the stumbling block has been the large amount of energy it requires. This, combined with the volatile price of crude oil sometimes makes it cheaper to produce new plastic products than to recycle existing plastic." …
---
vox.com 2020 How plastic "waste" is getting a greener second life – New innovations are creating a more sustainable future for single-use plastics.
---
physics world.com  5/2021 Recycled plastic bags make sustainable fabrics   by Isabelle Dumé
… "Polyethylene is one of the most common plastics in the world, but it is seldom found in clothing because it cannot absorb or carry away water. (Imagine wearing a plastic bag – you would feel very uncomfortable very quickly.) Now, however, researchers in the US have developed a new material spun from polyethylene that not only "breathes" better than cotton, nylon or polyester, but also has a smaller ecological footprint due to the ease with which it can be manufactured, dyed, cleaned and used.
The textile industry produces about 62 million tons of fabric each year. In the process, it consumes huge quantities of water, generates millions of tonnes of waste and accounts for 5–10% of global greenhouse gas emissions, making it one of the world's most polluting industries. Later stages of the textile use cycle also contribute to the industry's environmental impact. Textiles made from natural fibres such as wool, cotton, silk or linen require considerable amounts of energy and water to recycle, while textiles that are coloured or made of composite materials are hard to recycle at all. … Researchers led by Svetlana Boriskina of the Massachusetts Institute of Technology (MIT) set out to produce an alternative. …"
---
mining.com 3/2021 New fuel from plastic waste aims to replace fossil fuels in marine industry
---
treehugger.com/ 8/2019  Get Ready for the Onslaught of "Smart Plastic Incineration" By Lloyd Alter
---
independent.co.uk   5/4/2021  Scientists produce biodegradable plastic made from fish waste –  'When we start the process, there is a faint kind of smell, but that disappears,' explains Francesca Kerton, lead project investigator  by  Tom Batchelor  –  Scientists working on an alternative to polluting plastic have discovered a biodegradable material derived from fish waste that would otherwise be thrown away, which could be used in a variety of products including packaging and clothing.
---
Turning agro-waste into environment-friendly plastics
---
https://www.stuff.co.nz/taranaki-daily-news/news/300320873/new-plymouth-businessman-turns-up-heat-to-solve-plastic-waste-problem
---
https://www.cbsnews.com/news/ocean-pollution-kenya-plastic-bricks/
---
https://www.theguardian.com/environment/2021/may/30/recycling-textile-waste-a-solution-exists-we-cant-go-backwards
---
greenpeace.org/   2019   The #ReuseRevolution is the answer to the plastics crisis   by Graham Forbes 
"Plastic pollution is everywhere. … In response to this global environmental crisis, a growing movement—the Reuse Revolution—is already finding real and innovative solutions focused on reusing sustainable materials instead of throwaway plastics."
---
medium.com   3/3021  Top 10 Benefits of Recycling Plastic
---
theguardian.com  2020   small-steps-towards-a-plastic-free-world
---
treehugger.com/  24/5/2021  9 Ways to Combat Microplastics at Home  By Lisa Jo Rudy
---
thebetterindia.com  2021  The brain behind Noida-based sustainable startup Kagzi Bottles, Samiksha Ganeriwal claims that their first-of-its-kind, 100% compostable paper bottles can be used to package toiletries, beverages, liquids and powders.  by Urshita Pandit
---
see also > Growth! What growth?
---