Just in case, maybe it's not too late to rotate. But where to? Should the bubbles keep bursting, will there be an old fashioned stampede into safe&sound? A goldrush after all? An unprecedented re-emergence of cryptomania? Or a run for cover on land in a final submission to real-existing rentier-capitalism?
Whatever your preference, best order some wine with it: According to the investment firm Premier Cru, it would have provided a phenomenal return over the past 60 years: "Our £100 could today be worth as much as £478,000 tax free."
Mind you, here is international economist Adam Posen telling us why we shouldn't really care about asset prices:
bbc.co.uk 20-5-2022 Faisal Islam: "How concerned should we be about asset prices in the world now?"
Dig as deep as you like below.
Just follow the money…
---
asset prices – capitalisation – valuation
articles – updated 25-6-2022
ft.com 25-6-2022 Recession in US and Europe 'increasingly likely', warn economists
linkedin.com/ 6-2022 Turbulence Ahead by Stephen Dover
…"…. Recession odds increase : What, then, do our indicators say about recession odds? Worryingly, our broad probability model suggests the odds of a US recession in the next 12 months have roughly doubled, from about 20% late last year to nearly 40% today.[4] That's roughly the same as a Bloomberg published model that uses a single input, the shape of the US Treasury yield curve. Even more distressing, Bloomberg's two-year, multivariate recession probability model suggests the odds of a US recession over the next 24 months are now over 70%![5] …"…
---
dailyreckoning.com 6-2022 These People Never Learn – by James Rickards
…"…The bottom line is monetary policy can do very little to stimulate the economy unless the velocity of money increases. And the prospects of that happening aren't great right now. But what about fiscal policy? Can that help get the economy out of depression? Let's take a look… "…
---
marketwatch.com 16-6-2022 'The economy is going to collapse,' says Wall Street veteran Novogratz. 'We are going to go into a really fast recession – Veteran investor and bitcoin bull Michael Novogratz's economic outlook is not rosy – by Mark DeCambre
---
economist.com 16-6-2022 The Fed's flawed plan to avoid a recession – The central bank thinks it can reduce job vacancies without job losses
…"… The perils of positive thinking – The Fed's maths are sound. Yet its argument looks like the latest instance of over-optimism among monetary policymakers, who have downplayed the extent of the inflation scare and underestimated the action needed to fight it. Why would tighter policy shrink vacancies but not increase layoffs? Higher interest rates reduce consumption and investment, which might cause the weakest firms to shrink or even shut down. Mr Waller said that "outside of recessions, layoffs don't change much". Yet recession is precisely the outcome that pessimists fear will follow from higher rates.
The historical record backs up that worry—and provides little support for the Fed's argument. Research by Alex Domash and Larry Summers, both of Harvard University and firmly in the pessimists' camp, finds that there has never been an instance in which the vacancy rate has fallen substantially without unemployment rising significantly within two years. A reduction in vacancies of 20% is associated with, on average, a three-percentage-point rise in the unemployment rate—comparable with what is implied by the recent Beveridge curve. Mr Waller's argument implies a drop in vacancies of fully 35%."
A final problem with the Fed's plan is that it does not preclude persistent inflation. Even if the labour market returns to balance, inflation could stay high if workers and firms come to expect rapid price increases. In economics textbooks it is high inflation expectations, not the difficulty of bringing demand back into line with supply, that makes it hard to slow price rises without causing a recession. That is why it is such bad news that people's long-term inflation expectations have recently risen noticeably, according to a survey of consumers by the University of Michigan. Getting expectations down typically means running the economy cold. Each time the Fed is proved to have been overly optimistic, its credibility ebbs, making a dire outcome more likely."
---
businessinsider.com 15-6-2022 The crash in the Nasdaq is looking a lot like the bursting of the 2000 dot-com bubble — and that lasted almost 3 years – by Harry Robertson
The Nasdaq stock index is plunging faster than during the dot-com crash in 2000, dredging up bad memories on Wall Street. Back then, the index fell for around two-and-a-half years and only regained its 2000 peak roughly 15 years later.Investors are praying the current downturn doesn't turn into a similar rout, but the similarities are striking.
---
bloomberg.com 15-6-2022 Wall Street Sounds a Louder Recession Call After Fed Rate Hike -Guggenheim CIO, economists among those seeing contraction -Federal Reserve raised interest rates most since 1994 – by Katia Dmitrieva
"Analysts increasingly see a recession looming in the US following the Federal Reserve's biggest increase in interest rates since 1994 and signs of weaker consumer spending. …
---
unherd.com 14-6-2022 Will a bear market lead to a new financial crisis? The worst is yet to come
---
9-6-2022 Larry Summers : Deep recession may be needed to end inflation By Tristan Bove
---
economist.com 4-6-2022 America's next recession – Do not underestimate the perils that lie ahead.
---
marketwatch.com 3-6-2022 Fink, Dimon and Musk have the blues. Mishtalk says not gloomy enough – by Barbara Kollmeyer
That anxious hum among Wall Street exectutives is getting louder. U.S. stock index futures are down, following stronger-than-forecast jobs data, with technology out in front. After crushing remote-work hopes of Tesla workers, CEO Elon Musk now reportedly wants a 10% headcount cut due to a "super bad feeling" about the economy. …
… Our call of the day says these honchos are not worried enough. A "deep recession" should start this quarter or early in the next, with U.S. GDP estimates tanking, but "still too high," says Mike "Mish" Shedlock, investment advisor for SitkaPacific Capital Management.
In his Mish Talk blog, he points to the Atlanta Fed's GDPNow Forecast that models for second-quarter GDP, which is currently at 1.3%, down from 1.9% on May 27. He says watch real final sales, the "true bottom for the economy," which is holding at a "very respectable 2.9%. …The chart
… The Market Ear blog shares this chart from Tier1Alpha that shows the rise and fall of Cathie Wood's ARK Innovation ETF ARKK, -5.41% against the dot-com bubble of 20 years ago. "ARKK's dot.com analogy chart has continued to work very well. Do we start to chase dogs like ARKK if this squeeze becomes more violent to the upside? It would be almost too perfect," writes Market Ear. …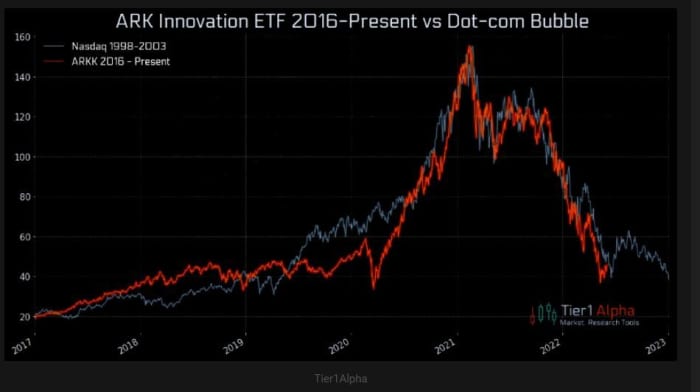 ---
fortune.com 28-5-2022 There are 2 very different kinds of recessions—and the U.S. is likely headed for something totally different than 2008 by Will Daniel
---
economist.com 25-5-2022 Wall Street's housing grab continues – As rising rates deter families from buying, being a rentier looks as appealing as ever
Spring weather often brings a stampede of homebuyers. Blossoming flowers and gushing sunlight after the winter slog make homes look more inviting. Not this year, though. Across the rich world house-hunters perturbed by high prices and rising rates are holding fire on mortgage applications. In America new home sales have crashed to two-year lows.
One group of buyers, however, remains unfazed: Wall Street. What began as an opportunistic bet on single-family housing during America's subprime crash of 2007-10 has morphed into a mainstream asset class. Today all sorts of institutions—from private-equity firms to insurers and pension funds—are piling into the sector. They are unlikely to vacate it: being a rentier looks as appealing as ever.
One reason is that demand for rental homes will jump as home ownership gets costlier. American savers need on average $15,000 more than they did before the pandemic to afford a 10% downpayment. Higher borrowing costs are forcing millennials nearing their peak buying years into longer leases. This coincides with a larger trend fuelled by covid-19: a shift from flats towards suburban homes with gardens and office space—which many households cannot afford and must therefore rent.
---
telegraph.co.uk 23-5-2022 The world's financial system is entering dangerous waters again, warns guru of the Lehman crisis – Columbia professor Adam Tooze: 'We don't know what is going to break until it does, but there are a lot of reasons to worry' – By Ambrose Evans-Pritchard
---
telegraph.co.uk 21-5-2022 The stock market crash has only just begun – There is still a lot of pain ahead – and this bear market will be a big one – Matthew Lynn
---
ft.com 20-5-2022 Wall Street stocks flirt with bear market as growth concerns mount.
---
ft.com 20-5-2022 Investors spooked as gloom grips markets – Even veterans accept we are at a historic juncture as inflation surges – by Katie Martin
---
ft.com 21-5-2022 Is the global economy heading for recession? by Chris Giles
---
ft.com 20-5-2022 What are investors supposed to trust in now? by Merryn Somerset Webb
---
businessinsider.com 18-5-2022 'Big Short' investor Michael Burry warns stocks will crash and rallies won't last. Here's a roundup of his recent tweets and what they mean. by Theron Mohamed
"The Big Short" investor Michael Burry expects a far steeper decline in the stock market. The Scion Asset Management chief's view is based on how past crashes have played out. Burry warned brief rallies were likely, and joked about his penchant for premature predictions.
Michael Burry, the hedge fund manager of "The Big Short" fame, rang the alarm on the "greatest speculative bubble of all time in all things" last summer. He warned the retail investors piling into meme stocks and cryptocurrencies that they were careening towards the "mother of all crashes."
The Scion Asset Management chief's dire prediction may be coming true, as the S&P 500 and Nasdaq indexes have tumbled 15% and 24% respectively this year. In tweets he's since deleted, Burry has taken credit for calling the sell-off, explained why he expects further declines, and cautioned against buying into relief rallies. …"…
---
businessinsider.com/ 15-5-2022 Wall Street is heading into a summer from hell — and top investors say it's going to bring a near-biblical reckoning to the market
---
moneyweek.com 15-5-2022 Get set for another debt binge as real interest rates fall – Despite the fuss about rising interest rates, they're falling in real terms. That will blow up a wild bubble – by Matthew Lynn
…"In the space of just a few months the price of money has risen ten-fold, and that is a dramatic rise, at least in percentage terms. At the margins it will make a difference. … Yet the really important number is the real interest rate; the cost of money after you allow for inflation. And that tells a different story. … It is easy to be fooled by quarter-point rises into thinking that rates are being tightened. That is what the Bank says it is doing, and that is what the headlines say. That is to completely mis-read what is actually happening. In truth, as inflation continues to accelerate at a far faster rate than the cost of money, in real terms rates are being cut, and dramatically so. We have a few decades of history to tell us that is only going to stoke another wild bubble in borrowing and asset prices – and with this one we don't even know when it will end."
---
theguardian.com 16-5-2022 Cutting City regulation risks another financial crash, say economists – Leading economists publish letter to Rishi Sunak in response to proposed financial services and markets bill – by Kalyeena Makortoff
---
ft.com 14-5-2022 Junk bond party starts to wind down by Joe Rennison
ft.com 14-5-2022 Where the next financial crisis could come from by John Dizard
ft.com 2-4-2022 Crypto vs gold: the search for an investment bolt hole John Plender
---
economictimes.indiatimes.com 28-2-2022 Here's the biggest threat to stock markets shaken by Russia-Ukraine war -by Joanna Ossinger
Synopsis: U.S. stock futures plunged as much as 2.9% Monday, erasing gains from late last week as speculation that central banks would throttle back on tightening policy gave way to worry that the geopolitical crisis in Europe could slow global economic growth. – … "A recession is likely to start at some point this year," said Matt Maley, chief market strategist at Miller Tabak + Co. "We're headed for a bear market." …
---
businessinsider.com 21-2-2022 We really did hit peak stupid': Elite investors on Wall Street say privately that the market is about to undergo a cataclysmic shift — and many that the market is about to undergo a cataclysmic shift — and many won't survive the 'washout' Linete Lopez
forbes.com 21-2-2022 'Peak Stupid'—Cataclysmic Market Warning Issued As The Price Of Bitcoin And Ethereum Crash – by Billy Bambrough
Bitcoin, ethereum and other cryptocurrency prices have crashed as the crisis in Ukraine rattles global investors. The bitcoin price, dipping under $38,000 per bitcoin, is down 10% on this time last week and almost 30% from its early February high of almost $46,000. Ethereum, the second-largest cryptocurrency after bitcoin, has seen similar declines—with fierce competition weighing on the ethereum price. Now, as assets that have soared over the last couple of years see heavy sell-offs in the face of looming Federal Reserve interest rate hikes, one billionaire value investor has warned some are going to get badly hurt in the coming "cataclysmic market shift." "I think there's going to be a few people who've really gone over their skis and will get hurt badly," the unnamed billionaire told Insider, with bitcoin and crypto named along with blank-check SPACs and retail-led meme stocks as examples of overblown market exuberance.
---
ft.com 19-2-2022 Investors brace for central banks' retreat from bond markets – Tommy Stubbington, Kate Duguid
The biggest buyers in bond markets are now poised to become sellers, as central banks who purchased trillions of dollars of debt since the 2008 financial crisis start trimming their vast portfolios. Leading central banks such as the US Federal Reserve and Bank of England are widely expected to kick off the process of "quantitative tightening" in the coming months, complicating the outlook for bond investors who are already grappling with runaway inflation and the spectre of aggressive interest rate rises this year. …
…The looming tightening of monetary policy marks a stark contrast to the coronavirus res The Federal Reserve will probably begin the QT process later this year, investors say. It may offer more details of plans to wind down its $9tn balance sheet at its meeting next month, at which it is widely expected to raise interest rates for the first time since the start of the pandemic…
"I'm sure the Fed is going to be watching the UK. It's probably quite a useful control experiment," said Steven Major, HSBC's global head of fixed income research. "If you look at [low long-term yields in the UK], the suggestion is there are plenty of willing buyers if the central bank just gets out of the way."
---
yardeni research pdf 18-2-2022 Central Bank: Monthly Balance Sheets – by Edward Yardeni
---
marketwatch.com/ 17-2-2022 Stock market faces the most 'massive misallocation' of 'capital in the history of mankind,' says ARK's Cathie Wood By Mark DeCambre
---
independent.ie 17-2-2022 The next financial crisis is coming, and it will be stamped 'made in China' – The world is awash in debt and rich nations now owe the equivalent of two-and-a-half times their economic output, far more than in the financial crisis. One country stands out as having accumulated more debt in a short period of time than any other – China – and it now poses the greatest risk to the post-pandemic recovery. by David Chance
---
morningstar.com 11-2-2022 Grantham on The Long View: Everything You Need to Know About the U.S. Stock Market 'Super Bubble' – And how the history of bubbles might foreshadow the fallout – by Jessica Bebel
---
newswise.com 3-2021 Its curvature foreshadows the next financial bubble – An international team of interdisciplinary researchers has identified mathematical metrics to characterize the fragility of financial markets. Their paper "Network geometry and market instability" sheds light on the higher-order architecture of financial systems and allows analysts to identify systemic risks like market bubbles or crashes – by Max Planck Society
---
economist.com 11-2-2022 The next crisis – What would happen if financial markets crashed? – Look to history for a guide, but know that next time will be different
…"…Yet the reinvention of finance has not eliminated hubris. Two dangers stand out. First, some leverage is hidden in shadow banks and investment funds. For example the total borrowings and deposit-like liabilities of hedge funds, property trusts and money market funds have risen to 43% of gdp, from 32% a decade ago. Firms can rack up huge debts without anyone noticing. Archegos, an obscure family investment office, defaulted last year, imposing $10bn of losses on its lenders. If asset prices fall, other blow-ups could follow, accelerating the correction.
The second danger is that, although the new system is more decentralised, it still relies on transactions being channelled through a few nodes that could be overwhelmed by volatility. etfs, with $10trn of assets, rely on a few small market-making firms to ensure that the price of funds accurately tracks the underlying assets they own. Trillions of dollars of derivatives contracts are routed through five American clearing houses. Many transactions are executed by a new breed of middle men, such as Citadel Securities. The Treasury market now depends on automated high-frequency trading firms to function. …
Ordinary citizens may not think it matters much if a bunch of day-traders and fund managers get burned. But such a fire could damage the rest of the economy. Fully 53% of American households own shares (up from 37% in 1992), and there are over 100m online brokerage accounts. If credit markets gum up, households and firms will struggle to borrow. That is why, at the start of the pandemic, the Fed acted as a "market-maker of last resort", promising up to $3trn to support a range of debt markets and to backstop dealers and some mutual funds. Was that bail-out a one-off caused by an exceptional event, or a sign of things to come? Ever since 2008-09 central banks and regulators have had two unspoken goals: to normalise interest rates and to stop using public money to underwrite private risk-taking. It seems that those goals are in tension: the Fed must raise rates, yet that could trigger instability. The financial system is in better shape than in 2008 when the reckless gamblers at Bear Stearns and Lehman Brothers brought the world to a standstill. Make no mistake, though: it faces a stern test."
---
reuters.com/ 1-2-2022 Betting on a 'very unlikely' ECB rate move …"…With ECB rate rise bets piling up and four-five Fed rate hikes discounted already for 2022, the euro bounced off 19-month lows against the greenback and German bond yields rose to the highest since 2019. …"…
---
marketwatch.com 31-1-2022 Bears beware. Past corrections for the S&P 500 are only 15% on average, outside of recessions by Joy Wiltermuth
---
forexlive.com 31-1-2022 Does the S&P 500 Hitting SMA Mean a Bear Market Is Coming? – The S&P 500 hit a new record on the first day of trading this year, and since then has pretty much been heading downward.
---
research.danskebank/pdf 31-1-2022 UK BoE preview: Another rate hike and passive QT
---
bloomberg.com 8-2021 Liquidity Is Evaporating Even Before Fed Taper Hits Markets – Gap between money-supply growth and GDP is now below zero – Negative readings in last decade spelled trouble for S&P 500 – Fed Is 'Adjusting the Dials' on Inflation: Pimco's Schneider – By Lu Wang
"A measure of U.S. financial liquidity whose declines foreshadowed two of the decade's worst equity routs is flashing alarms even before the Federal Reserve embarks on its planned winding down of asset purchases. The signal is obscure, but has sent meaningful signs in the past. Roughly speaking, it's the gap between the rates of growth in money supply and gross domestic product, an indicator known to eco-geeks as Marshallian K. It just turned negative for the first time since 2018, meaning GDP is rising faster than the government's M2 account. …"…
---
bloomberg.com 31-1-2022 Nasdaq Index Poised for the Worst January in Its 50-Year Existence – Tech stocks priced on future earnings dented by rate hike bets – Despite gains Monday, shares still far from avoiding milestone – By Thyagaraju Adinarayan
---
ft.com 29-1-2022 A market crash will depend on which bit of the equation investors got wrong M.S.Webb
---
ft.com/ 29-1-2022 Darker market mood sets in, one year after GameStop frenzy
---
ceconomist.com 29-1-2022 Quantitative tightening is no substitute for higher interest rates – Reversing trillions of dollars of asset purchases may prove to be an unreliable tool
theguardian.com 25-1-22 If Jeremy Grantham is talking about a US 'superbubble', we should listen – The Boston-based fund manager has hard-to-deny evidence to back up his prediction of a 'wild rumpus' – by Nils Pratley
…"…He ran through his checklist of a late-stage bubble, of which "the most important and hardest to define" is "the touchy-feely characteristic of crazy investor behaviour". On that score, he has hard-to-dispute examples: the meme stock merriness of a year ago; dogecoin, a parody cryptocurrency, rising to a value of $90bn "because Elon Musk kept joking about it"; and shares in car hire firm Hertz soaring because the company said it would order some Teslas. Those episodes are now over, reckons Grantham, and we're on to "the vampire phase" of the bull market. Share prices have defied Covid, the end of quantitative easing and the promise of higher rates but, "just as you're beginning to think the thing is completely immortal, it finally, and perhaps a little anticlimactically, keels over and dies". …"…
---
businessinsider.com 22-1-2022 John Hussman, a notorious market bear who called the 2000 and 2007 crashes unloads on the Fed for creating 'the most extreme financial bubble in US history' — and warns of a 70% drop in the S&P 500 just to return to normal valuation levels – by William Edwards
---
businessinsider.com 2017 'Wall Street has gone completely mad' — One market bear forecasts a decade of stock losses – by Joe Ciolli
By multiple measures, US equity valuations are close to the highest on record. Investor and former professor John Hussman doesn't think this is a sustainable situation, and forecasts that stocks will see negative returns over a 12-year period. Hussman's perma-bearish views have seen mixed success in the past, and a good number of Wall Street strategists are bullish on US stocks through 2018.
---
maroonmacro.substack.com 19-1-2022 -39- Repo Review: Sponsored Repo
"In this issue of Monetary Mechanics, I am going to talk about the effect of the explosion in sponsored repo on the broader short-term interest rate complex, as well as how it fits into the broader development of money markets in the post-GFC financial system. … My objective here is to attempt to provide a high-level overview of the most fundamental features of sponsored repo to attempt to uncover and understand what (if any) effect this practice has on the rest of the global financial system. I will do my best to place sponsored repo within the proper context relative to the rest of the US repo market complex, and also to impart some informative, interesting, and useful insights about sponsored repo that may not have been fully fleshed out by other people. …"…
---
the economist.com 1-2022 Why capital will become scarcer in the 2020s – Populism, climate change and supply-chain fixes will raise the long-term cost of capital
---
the economist.com 11-2021 Will the world economy return to normal in 2022? – If it does not, a painful economic adjustment looms -by Henry Curr
---
theguardian.com 4-2021 Bill Gates is the biggest private owner of farmland in the United States. Why? – Gates has been buying land like it's going out of style. He now owns more farmland than my entire Native American nation – by Nick Estes
---
whoownsengland 2017 WHY IS JAMES DYSON HOOVERING UP LAND?
…"…Dyson has also been making headlines lately by warning the Government not to cut farm subsidies after Brexit. Commentators have been quick to point out that Dyson himself is one of the biggest beneficiaries of the current system of farm subsidies: last year, his company, Beeswax Farming (Rainbow) Ltd, received £1.8million in payments. …"…
---
Markets Now and Then – earlier articles here
---
---