Porsche on his milk float – 1902
euractiv.com 18-3-2023 The real cost of Germany blocking the combustion engine ban – Germany's last-minute refusal to support the EU's combustion engine ban hurts Europe's economic interests but also the EU's ability to regulate its market. Unless Germany backs down, its intervention will cast doubt over the process of EU lawmaking – by Julia Poliscanova
economist.com 3-3-2023 Firms search for greener supplies of graphite for EV batteries – They hope to break China's dominance of the industry
---
economist.com 16-2-2023 Throughout the rich world, the young are falling out of love with cars – That could have big political ramifications
---
dezeen.com 1-2-2023 MIT study finds huge carbon cost to self-driving cars – by Rima Sabina Aouf |
"The widespread adoption of self-driving cars will create a major bump in carbon emissions without changes to their design, a study from the Massachusetts Institute of Technology has found.
The study found that with a mass global takeup of autonomous vehicles, the powerful onboard computers needed to run them could generate as many greenhouse gas emissions as all the data centres in operation today.
These data centres currently produce around 0.14 gigatonnes of greenhouse gas emissions per year, equivalent to the entire output of Argentina or around 0.3 per cent of global emissions, according to the researchers.
A similar amount would be generated by one billion autonomous vehicles – fewer than the number of cars in the world today – each driving one hour per day with a computer consuming 840 watts of power.
With growing adoption, these emissions could spiral unless computing power is made more efficient at a significantly faster pace, determined the study, which used statistical modelling to test several possible future scenarios and found this to be true in over 90 per cent of cases…"…
---
thecarexpert 27-1-2023 Why hydrogen cars are not the answer – by Russell Hayes
---
wired.com 26-12-2022 Dear Electric Vehicle Owners: You Don't Need That Giant Battery – EV batteries take up lots of space and resources. But most drivers won't actually use all that power.
…"…They look much like the gas-powered cars of yesterday, large and handsome and well-equipped: family-haulers, boat-towers, off-road ready. They also do things that those cars didn't do, like go from zero to 60 in three seconds and travel 400 miles without emitting any carbon. The trade-off is that they carry a burden: a massive battery pack that can push the vehicles' weight to over 10,000 pounds. Most of the time that pack is parked, or is being used to a fraction of its capabilities on school pick-ups or runs to the grocery store. Unless those cars are flying hundreds of miles down the open highway, which they rarely are, the precious atoms of cobalt, lithium, and nickel inside of them have very little to do.
In the United States, fewer than 5 percent of trips are longer than 30 miles. For a gas engine, that represents a portion of a fuel tank. For an EV, range is the result of a more complicated set of decisions about how to best use expensive, hard-to-obtain metals. Melin, an expert in battery recycling, is often asked by governments and automakers how those resources can be stretched. It would be nice if he could tell them that recycling materials from old batteries would do the job. But it can't. Batteries can power cars for a decade or more, and with EV adoption and the size of the average vehicle increasing every year, old batteries can contribute only so much. So Melin's suggestion: Start off with less. Use smaller batteries in the first place.
That's a tough sell, especially in the US… …There's a long way to go, though. There's much more that Americans could do to get more out of each EV battery, like sharing cars or adopting new technologies that let drivers swap different-sized batteries based on their needs. Both are popular approaches in China, Melin notes. And choosing a smaller battery is less of a big deal than swapping a truck for a car, or giving up car ownership entirely in favor of a bus or ebike—options that would get us to a decarbonized future much faster. Despite localized experiments like fare-free mass transit or tax incentives to go car-free, this year of climate investments has still ultimately tipped in the favor of private vehicles, even as urban sprawl expands and major public systems are trapped in a pandemic-induced death spiral. Is it possible to have more electric cars on the road and fewer cars at the same time? "This will be much harder to change," Tal says. "We are losing the fight."
---
economist.com 11-2022 The race to reinvent the car industry – Can carmakers catch up with Tesla and pull off the shift to software?
…"…Turn too horizontal and your software unit will get overwhelmed. That is what happened at vw, critics say, which installed its Cariad division in Ingolstadt, a six-hour drive from the group's headquarters in Wolfsburg. … Other carmakers are learning from vw's mistakes and adopting more mixed models… Each of these changes—to digital technology, organisation and business models—is a big shock on its own. Together they amount to a handbrake turn for an industry characterised by inertia. Many established firms still do not seem to accept the scale of the challenge. Digitisation has yet to creep into boardrooms: more than a third of board members at the four big German carmakers are mechanical engineers, and none comes from the tech industry. For now, though, the digital race is still to be won. Even as the car industry struggles with software, the upstarts have much to learn about getting Spaltmaß right at scale, maintaining complex supply chains and building trust in their brands. "Incumbents are not doomed like Nokia," says Christoph Bornschein of tlgg, another consultancy, referring to a once-dominant firm caught out by the smartphone revolution. "But they have only a narrow window of opportunity to get their act together." "
---
theguardian.com 2-2020 New cars producing more carbon dioxide than older models – Demand for bigger cars drives increase in greenhouse gas emissions, says Which? – by Jasper Jolly
---
Maja Goepel – @beyond_ideology – #greatmindshift to #repurpose economies for sustainable prosperity
---
economist.com 27-10-2022 Battery-makers are powering a circular economy – "Gigafactories" are being designed to recycle raw materials
…"…Gigafactories are not yet exemplars of the circular economy, but they are laying the foundations. Northvolt, a Swedish battery-maker, aims by 2030 to produce 150gwh of batteries—enough to power some 2m evs—from the three gigafactories it is completing. By then, around half its raw materials should come from recycling old batteries. Northvolt is not alone. Using recycling, renewable power and other measures, catl—a Chinese firm and the world's biggest producer of ev batteries—thinks it should eventually be possible to shrink the carbon footprint of a battery towards zero.
Carmakers such as the Renault Group and Stellantis, owner of brands that include Fiat, Chrysler and Peugeot (and whose big shareholder, Exor, also owns a stake in The Economist's parent company), are both setting up circular-economy businesses. This is not just for batteries, but also for repairing and reconditioning parts and vehicles. Each of these operations will, bosses hope, have annual revenues of more than €2bn ($2bn) by the end of the decade, and be profitable. Renault reckons around 85% of a car is recyclable, but only 20-30% of the materials in new vehicles are recycled, often from other goods. Circular manufacturing would greatly increase that share.
Could other industries do something similar? Fast fashion is a notoriously wasteful business in which little-worn clothes are burnt or dumped. America's Environmental Protection Agency estimates that the recycling rate for clothing and footwear is just 13%. A big part of the reason is the use of mixed textiles, which are hard to recycle. Clothing companies could, like gigafactories, re-engineer their processes to employ fibres that are easier to handle. Consumer electronics is another business that creates heaps of waste, despite electronic circuits containing precious materials such as gold and silver, and electric motors being made from rare-earth metals like neodymium and dysprosium. Fortunes could yet be made in the urban mining of last year's gadgets and yesterday's togs."
---
theguardian.com 21-10-2022 100m highly polluting cars could appear on Europe's roads after EU move Automotive emissions – Efficiency recommendations of experts rejected in European Commission 'Euro 7' proposals
…"…Almost 100m highly polluting cars could appear on Europe's roads over the next decade after the European Commission moved to disown its own experts efficiency recommendations in a leaked proposal seen by the Guardian. … The auto industry lobbied the commission intensely in the run up to the draft regulation, with one Volkswagen official last year painting "a picture of horror" to EU officials of the effect that tough standards could have, according to Der Spiegel. …"..
---
dailymail.co.uk 10-2022 It's like driving a cross between a hairdryer and a shopping trolley! The bubble car is back and it's electric, nippy and a joy to park… but it's not all good news, writes ROBERT HARDMAN
theautopian.com 18-10-2022 The Cute Modern-Isetta Microlino Is Getting An Even More Adorable Fiat Jolly-Inspired Beach Car Version – By Mercedes Streeter
…"…'We use 50 per cent less electricity per 100km than an average electric car,' says Merlin Ouboters, adding that a Microlino only requires about 50 per cent of the components, too.
For now, the Microlino strategy, as the name suggests, is to start small. The first cars only hit the road in Switzerland last month and, at present, the family's Turin factory employs just 40 people producing 25 cars a week. Things are about to scale up fast. Production is scheduled to hit 100 cars per week by the end of this year. Next year, the plan is to build 7,000 Microlinos and 12,000 in 2024. …
…With no shareholders to answer to, they are under no obligation to discuss the cost of the new venture, although Merlin confirms that it is easily in the tens of millions. So, have we finally found 'the car of the future', courtesy of the car of the past? It's too soon to say. However, Merlin reveals a striking new statistic. Driving a Microlino, it transpires, is more eco-friendly than public transport, following studies with Swiss commuter trains. 'We have used railway data that shows the train consumes 7.8 kwh per person per 100km. With us, it's nearer 7.5 kwh.'
Whenever this thing does finally hit our shores, we are clearly going to have to avoid Microlino owners at dinner parties or the school gates like the plague. The smugness is going to be unbearable."
---
euronews.com 19-9-2022 Why tech companies are wrong to think electric cars are a solution to climate change – by Thomas Duthois, Anca Ulea, Benjie Croce
roadtonowherebook.com 7-2022 Road to Nowhere – by Paris Marx
Tech Won't Save Us host Paris Marx breaks down the flaws in Silicon Valley's technological visions for transportation, and makes a compelling argument for deep structural changes to create a sustainable mobility system that serves the public good.
---
de.style.yahoo.com 15-9-2022 immer mehr autos in deutschland
---
goodreads.com 2022 How the Car Created the Modern World – by Bryan Appleyard
---
economist.com 8-2022 – Could the EV boom run out of batteries? Possibly…
---
motortrend 8-2022 Electric Vehicles Are Way, Way More Energy-Efficient Than Internal Combustion Vehicles – only $1 out of $5 dollar's worth actually gets you moving- by Justin Westbrook
---
cleantechnica.com 7-2022 Sustainable Electric Car That Cleans The Air While Driving — Zem
TU Eindhoven student team TU/ecomotive has developed a sustainable electric passenger car that captures more carbon dioxide (CO₂) than it emits while driving. It is a prototype, called Zem, that purifies the air through a special filter. By storing the captured CO₂ and then disposing it, Zem can contribute to reducing global warming. The students will continue to improve the vehicle in the coming years, with the goal of making it carbon-neutral for its entire life cycle and eventually hitting the road.
---
bbc.co.uk 4-3-2022 Tyre Extinguishers: Scores of SUVs have tyres deflated by activists
---
theguardian.com 19-2-2022 'We are afraid': Erin Brockovich pollutant linked to global electric car boom – Investigation uncovers evidence of contaminated air and water from one of Indonesia's largest nickel mines – by Febriana Firdaus, Tom Levitt
" A Guardian investigation into nickel mining and the electric vehicle industry has found evidence that a source of drinking water close to one of Indonesia's largest nickel mines is contaminated with unsafe levels of hexavalent chromium (Cr6), the cancer-causing chemical more widely known for its role in the Erin Brockovich story and film. …Unlike other minerals used to power EVs such as cobalt and lithium – which have been linked to environmental damage and human rights abuses –nickel's supply chain has so far gone largely unscrutinised. … The Chinese battery component producer GEM has signed an agreement to purchase nickel from the company, PT Halmahera Persada Lygend. GEM supplies battery components to many of the world's leading EV battery manufacturers, including Chinese-owned CATL, which controls about 30% of the global battery market. … The ultimate beneficiaries are likely to be many of the most well-known EV brands, with nickel from these mines used to produce batteries that could end up in cars sold by Mercedes-Benz and Volkswagen (VW). Booming nickel prices and a "battery arms race" have seen a rush to develop mines but there are fears that regulatory oversight has failed to keep up with the pace of development.
---
theguardian.com/ TV tonight: a deep dig into Tesla's electric car revolution – Panorama asks how ethical Elon Musk's rare-metal supply chain is.
---
thetimes.co.uk 22/7/2021 The environmental impact of electric cars – Just how green are low-emission vehicles? Graeme Paton, Anna Lombardi track their production, from mineral mines to the road and beyondFor more than a century, vehicles have been powered by fossil fuels. Latest figures show that there are 31.7 million cars on UK roads, of which about 31.5 million are still propelled completely, or in part, by petrol or diesel. The future, however, will be electric. By the end of this decade, the UK will ban the sale of pure fossil fuel-powered cars and vans, followed five years later by hybrids which run using a combination of a combustion engine and battery. …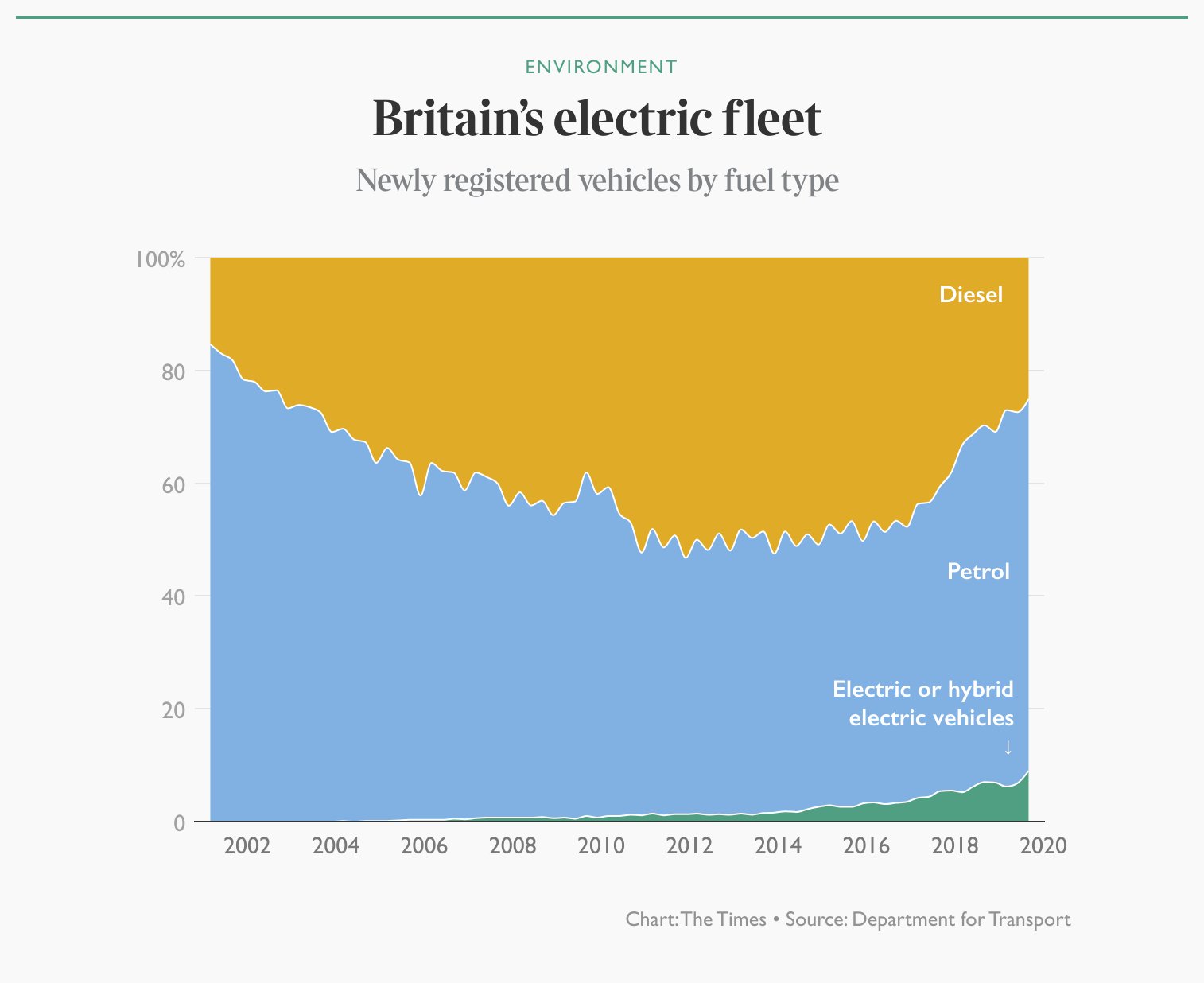 youmatter.world 2018 are-electric-cars-eco-friendly-and-zero-emission-vehicles- zero?
thisismoney.co.uk/ 17/6/2021 Step on the gas: A new generation of hydrogen cars could be the real long-term answer to zero emissions driving – and the only by-product is water By Ray Massey
inews.co.uk/ 5/2020 "Hydrogen cars: How the fuel cell works, where the UK's filling stations are and how expensive they are to run Matt Allan
As the move away from internal combustion looks to be accelerating we look at the alternative to battery electric cars. The Government has announced that it is accelerating the ban on new petrol and diesel cars. It now wants to outlaw the sale of fossil fuel cars by 2035 and has extended its plans to cover hybrid vehicles as well. …"…
---
techxplore.com 18/5/2021 Mahle developing magnet-free electric motor that does not require rare earth elements by Bob Yirka
---
autoexpress.co.uk 29/4/2021 "Our rush to electric cars may harm the environment and snuff out valuable alternatives" – Steve Sutcliffe sees the accelerated mass adoption of electric cars having unforeseen environmental costs and smothering technologies with real short-term value. by Steve Sutcliffe
…"… mining for lithium on a large scale … introduces droughts and famines into the communities that live anywhere near the mines. Pollution of the water supply can also be a bit of an issue, too, although the mining companies tend not to want us to know any of this, aiming major compensation deals at anyone or anything, including entire countries, that stand in their way … arguably lithium mining could, in the long run, wreak almost as much havoc on our planet as the mining of fossil fuels. …
---

… synthetic fuel is expensive to make and still produces unwanted emissions ultimately, but its real-world effects on the planet are, claim its creators, less significant overall than those of a full blown EV if you take every factor of its production and increased efficiency into consideration. …The trouble is, and as things stand, synthetic fuel will merely be a method of propulsion for second-hand cars only from 2030 – it is still classed as a fossil fuel – so its outright potential may never be realised. To succeed and make a difference, our governments need to seriously think about giving synthetic fuel some kind of qualified stay of execution. They also need to think hard about all the other sources of energy that could, and should, be invested in right now, rather than putting all their eggs in just one conveniently packaged, EV-labelled basket.
---
autoevolution.com/ 2021 Tesla Model 3 Long Range Loses Range Test to VW ID.4—Surprised? by Vlad Mitrache
.."…several real-world tests have proven that the procedure used by the EPA to come with these numbers has nothing to do with what happens on actual roads. The most recent example is Edmunds' massive EV range test that revealed how most of the models from other manufacturers exceeded their EPA ratings, while no Tesla managed to meet theirs.
---
guardian.com 17/4 2021 Chinese firms prepare to charge into Europe's electric car market – Tesla could be in for a shock as far-eastern rivals use cheap money to gain traction among affluent western car buye"Chinese rivals Nio, Xpeng and Li Auto have all rapidly risen in value.. (and) … their fundraising successes have allowed them to pour money into competing with Tesla in China. Now they are eyeing the European electric car market – the biggest in the world. …"
---
independent.com 4/2021 Car review: Is the Polestar 2 as good as a Tesla?– The Polestar 2 is vegan, electric and is a feat of modern engineering. But is it as good as the king of eco vehicles? Sean O'Grady isn't so sure
"One definition of capitalism might be that it exists so that you buy things not only that you never knew you needed but that you never knew even existed. Welcome, then, readers to what I am assured is the world's first vegan car. That's correct; no animals were exploited, let alone harmed, in the making of this all-electric ultra-cool electric car. The Polestar 2, an electric performance brand spun out of Volvo combines Swedish style with Chinese battery technology, it uses no petrol or diesel, and there's absolutely no tallow in it. You've never heard of it, but now you want one, don't you? I bet if I told you it's as good as a Tesla you'd want one even more, wouldn't you? …But the Polestar isn't a Volvo, it's a Polestar and the reason why is that the Chinese group that nowadays owns Volvo cars, Geely, wanted to emulate the super-sexy desirability of Tesla, with the same kind of pioneering start-up vibe and novelty to the name. So they chose to create a separate division, Polestar, which was only used sparingly before as a Volvo performance sub-brand. It's not Volvo's fault, in other words, that their electric car isn't known as a Volvo; it's fashion. I doubt, no matter how good the cars are, that Polestar will ever be a brand like Tesla, because of the debatable magic of the Elon Musk name. Then again, given the bubble-like feel of the Tesla share price and Musk's infatuation with Bitcoin I'm not sure that will sustain. I think I'd rather have an electric car from a big group such as Geely and from people who know how to make premium cars, such as Volvo. The Polestar is aimed at the Tesla 3, and there isn't much in it except that the counterpart Tesla is a lot more expensive – about £7,000. That's the price of buying into the cult of Musk. …"
---
forbes.com 11-2021 War On Inflation, Part 3: Resuming Leadership In High Capacity Battery Manufacture by Robert Hockett
…"…The fact that US firms are acting individually rationally in not leading the charge to national self-sufficiency on the one hand, combined with the fact that not restoring this self-sufficiency in light of the perils described above is collectively irrational on the other hand, lends US dependence on foreign-sourced battery and battery pack manufacture the character of a classic collective action problem. For a collective action problem just is a choice situation in which multiple individually rational decisions aggregate into collectively irrational outcomes.
The solution to collective action challenges, which are ubiquitous in modern macro-economies, is straightforward. What are required are well-considered and well-planned exercises of collective agency – that is, concerted and mindful public action. The InvestAmerica Plan noted in the Introduction above is meant to enable precisely that – collective agency of a kind that renders individual private agency on the part of business firms once again profitable and hence individually rational. How the Plan does this in the realm of battery manufacture is the subject of the next section. …"…
---
theguardian.com 2/2012 SUVs and extra traffic cancelling out electric car gains in Britain – Auditors say emissions down just 1% since 2011 and target of zero emissions by 2050 is a long way off
---
bbc.co.uk 2/2021 Chinese £3,200 budget electric car takes on Tesla By Justin Harper
---
theguardian.com 3/2012 Fossil fuel cars make 'hundreds of times' more waste than electric cars
Analysis by transport group says battery electric vehicles are superior to their petrol and diesel counterparts
---
carmagazine.co.uk 22/3/2012 How long do electric car batteries last? Fossil fuel cars make 'hundreds of times' more waste than electric cars – Analysis by transport group says battery electric vehicles are superior to their petrol and diesel counterparts
---
newsroom.posco.com 2017 The Forgotten Fleet: Looking Back on Early Electric Vehicles for a Better Future
---
see also Is Greenwashing the New Money Laundering?
---