---
academia.edu/PDF  2013 The Neoliberal Resurgence and the Threat of Austerity Boris Frankel
The enormity of the current crisis (known superficially as the GFC), prompts one to ask why is it that neoliberalism still dominates both government policy practice and university economics theory and, moreover, why has it actually gained a new and possibly stronger lease of life?
---
theguardian.com    28/6/2021  The age of neoliberalism is ending in America. What will replace it? Gary Gerstle
Can Biden nevertheless pull off a New Deal for the 21st century, appropriately festooned in 50 shades of climate-friendly green? The odds are against him. Gary Gerstle teaches at the University of Cambridge. He is writing The Rise and Fall of America's Neoliberal Order (2022)
---
project-syndicate.org   11/5/2021   Beware Economists Bearing Policy Paradigms   by Dani Rodrik
US President Joe Biden's administration has embarked on a bold and long-overdue departure from the economic policy orthodoxy that has prevailed in the US and much of the West since the 1980s. But those who are seeking a new economic paradigm should be careful what they wish for. Neoliberalism is dead. Or perhaps it remains very much alive. Pundits have been calling it both ways these days. But either way, it is hard to deny that something new is afoot in the world of economic policy.
---
ft.com   5/2021  Why the US is becoming more European   Simon Kuper
---
economist.com  5/2021  Biden's end of neolib – 3rd way all over?
… "What a difference 25 years can make. In 1996, then-Senator Joe Biden was gushing about the vote he would soon cast in support of sharp reductions in cash payments for single mothers. "The culture of welfare must be replaced with the culture of work," he said on the floor of the Senate. "The culture of dependence must be replaced with the culture of self-sufficiency and personal responsibility."…"
---
warwick.ac.uk/   2018 'Globalists: The End of Empire and the Birth of Neoliberalism' (2018) Quinn Slobodian
…"It has almost seemed necessary for discussions of neoliberalism to start with a preamble on the uncertain status of neoliberalism as an object of inquiry. This tradition looks to be challenged by an increasingly broad and confident body of literature which has emerged over the past five to ten years, and to which Quinn Slobodian's Globalists: The End of Empire and the Birth of Neoliberalism (2018) firmly belongs. This body of literature aims to peer through the scholarly haze obscuring the nebulous concept of 'neoliberalism' and attempts to define precisely what neoliberalism might be. Slobodian is the co-editor, with Dieter Plehew and Philip Mirowski, of the forthcoming book Nine Lives of Neoliberalism(January 2020) which looks to be something of a follow-up of Mirowski and Plehew's seminal edited volume The Road from Mont Pèlerin: the Making of the Neoliberal Thought Collective (2009) – the authoritative volume for the historical study of neoliberalism. Slobodian frequently cites, and is very much part of, this historical project.
The project has been particularly successful in dissipating what Mirowski has delightfully described as the 'remarkable and dumbfounding […] nominalism when encountering neoliberalism.' [1] The general thrust of this group's argument understands neoliberalism as a distinct system of political thought with a number of prevalent features which differentiate it from other systems of thought, particularly classical liberalism. …"
---
researchgate.net   2016  Primacy of the Economy, Primacy of the Political: Critical Theory of Neoliberalism   Bob Jessop
"Neoliberalization is a distinctive economic, political, and social project that promotes profit-oriented, market-mediated accumulation as the primary axis of societalization. This might suggest that neoliberalism promotes the primacy of the economic but, since its extension and reproduction require continuing state support and, indeed, involve what Weber called political capitalism, one might also argue that it entails a primacy of the political. To address this paradox, my article offers a baseline definition of neoliberalism and identifies four ideal-typical historical forms thereof; relates neoliberalism to the world market, geopolitics and global governance; disambiguates the primacy of the economic; and addresses the role of the political in promoting neoliberalism and handling its contradictions and crisis-tendencies. It illustrates this exercise in critical theory from the North Atlantic Financial Crisis and how its (mis)management has strengthened the neoliberal project, enabled its main promoters and beneficiaries to escape the need to learn from their mistakes, and even enabled them to further enrich themselves.
While often identified with right-wing parties, neoliberal regime shifts have also been initiated, maintained, or supported by centre-left parties, often under a 'Third Way' label (e.g., New Labour, the Clinton Administration, 'die neue Mitte' in Germany)."    more here
---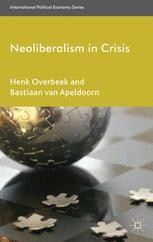 palgrave.com   2012    Neoliberalism in Crisis    ed by Henk Overbeek + Bastiaan van Apeldoorn,    The authors interrogate the condition of the neoliberal project in the wake of the global crisis and neoliberalism's predicted death in 2007, both in terms of the regulatory structures of finance-led capitalism in Europe and North America, and the impact of new centres of capitalist power on global order.
Introduction_the_life_course_of_the_neoliberal project and the global crisis  (GM PDF highlight)   by Henk Overbeek + Bastiaan van Apeldoorn
---
---
FTmag   5/2021  How the middle class became downwardly mobile   Simon Kuper
---
---
https://entrepreneurshandbook.co/how-i-slowly-became-a-middle-class-millionaire-bd621529fb0f
see also Inequality
---
guardian.com   5/2021  Focus on individual wellbeing doesn't help – Angela Smith
As the powerful feather their own nests, for many daily life is a horror story of precarity and anxiety
blogs.lse.ac.uk/lsereviewofbooks/2019/02/28/long-read-review-k-punk-the-collected-and-unpublished-writings-of-mark-fisher-2004-2016-by-mark-fisher-edited-by-darren-ambrose-with-simon-reynolds/
goodreads.com/book/-capitalist-realism
---
theoryculturesociety.org/blog/review-wendy-brown-undoing-the-demos
"At its worst, the resilience imperative is an offensive, exclusionary narrative that blames individuals for their predicament. Encouraging us to internalise, rather than question, the dominant logic of neoliberal values and the structural inequalities and social determinants that contribute to poor mental health, it undermines our impulses to solidarity. And at its best? Perhaps when it emerges from resistance and solidarity – not compliance and individuality.
The self-help industry's moralising frame of reference offers the psychological comfort of consolatory distractions, encouraging conformity rather than criticality. Changing the status quo requires resistance, not resignation and compliance with the sanitised dictates of self-help gurus, and their market-friendly humbuggery that promises individual transformation and human flourishing without altering the structural conditions that contribute to distress.
Anxiety is symptomatic of the radical contingency of our era. Normalised precarity has normalised anxiety. To feel anxious, vulnerable and unhappy in a system that masquerades as freedom and demands that workers be resilient while leaving them unprotected is an understandable outcome"
---
https://english.elpais.com/opinion/2021-01-25/nostalgia-in-economics.html
https://www.palgrave.com/gp/book/9780230301634
Can capitalism solve capitalism's problems?
http://theconversation.com/can-capitalism-solve-capitalisms-problems-130427
https://theconversation.com/investors-consumers-and-workers-are-changing-capitalism-for-the-better-by-demanding-companies-behave-more-responsibly-119281
xxxxxxxxxxxxxx
Democracy doesn't matter to the defenders of 'economic freedom'
https://www.theguardian.com/commentisfree/2019/nov/11/democracy-defenders-economic-freedom-neoliberalism
xxxxxxxxxxxxxxxx
Bursting the Billionaire Bubble
No, America isn't waiting for a tycoon savior.
By Paul Krugman
Opinion ColumnistPut it this way: These days, many political factions are accused, with varying degrees of justice, of living in some kind of bubble, out of touch with American reality. But few live as thoroughly in a bubble as the billionaire class and its hangers-on.
And now the billionaires in the bubble find themselves in an environment in which concerns about soaring inequality, about the extraordinary concentration of wealth in the hands of the few, finally seem to be getting political traction. And they're not handling it well.
xxxxxxxxx
---
https://renegadeinc.com    2019  Neoliberalism – An Idea Swallowing The World      Economist Mary Wrenn and the economist and writer, Frances Coppola recently met up with Renegade Inc. to discuss what 40 years of neoliberal economics has done to us and our political landscape.
---
https://www.ft.com/ 5/2021 Amazon Unbound  Brad Stone FT 5/2021    neoliberal prime?
---
newleftreview.org   2017   THE RETURN OF THE REPRESSED  Wolfgang-Streeck
"…. An interregnum in Gramsci's sense is a period of tremendous insecurity in which the accustomed chains of cause and effect are no longer in force, and unexpected, dangerous and grotesquely abnormal events may occur at any moment. This is in part because disparate lines of development run unreconciled, parallel to one another, resulting in unstable configurations of many kinds, and chains of surprising events take the place of predictable structures. Among the causes of the new unpredictability is the fact that, following the populist revolution, the political classes of neoliberal capitalism are forced to listen rather more closely to their national populations. …"
Die Wiederkehr der Verdrängten : Streeck zur Politik des Neoliberalismus   Artikel in Suhrkamp Buch
---
springer.com   2018   Contemporary Neoliberalism  Financing the Apocalypse pp 113-143   Joel Magnuson
This chapter and the next are devoted to exploring this neoliberal canon as part of the superstructure that provides normative justification for the corporate hegemony, and to see how it is bound up in the collective nerve cells of the American mentality. So deeply entrenched this ideology that it is nearly invisible, as Mirowski echoes Gruchy, "neoliberalism as a worldview has sunk its roots deep into everyday life, almost to the point of passing as the 'ideology as no ideology.'"   Whether invisible or not, a central point to be made is that neoliberal ideology is inseparable from the institutions that it supports. They are a package deal.
To keep themselves intact, all powerful institutions throughout history have developed their own version systems of ideological justification. As we explore the relationship between institutions and their supporting ideologies, there arises a chicken-and-egg question on which has primacy, the institution or the ideology? This question is overshadowed by the debate in the sociology of knowledge between idealism and materialism and weighing in on this debate is beyond the scope of our project here. If pressed, however, the materialist view seems to carry more weight.
In the institutionalist view, the emphasis is not on trying to solve this debate, but rather to see that institutions and ideologies are two aspects of a broader cultural whole that evolves with time. There is a dynamic interplay between the structure of institutions that determine how we do things and the structure of beliefs that determine how we think about things. How we think about the world affects how we act in the world, which affects how we think about the world and so on. The men and women who advocate neoliberal doctrines have the privilege of orthodoxy because they are supported by the vast financial resources of the corporation and by the social classes that reside in its citadels. At the same time, corporate institutions evolved into a hegemony in part because they are supported by the coevolution of neoliberal economic doctrine. It is not a coincidence that as corporate institutions orchestrated their capture of other institutions in media, government, and academia, these institutions became the home base for neoliberal intellectuals. In other words, corporate hegemony and neoliberalism are coevolving in such a way that they mutually strengthen each other. We cannot fully understand one without the other. To that end, we will flesh out some of the cornerstone elements of neoliberalism:
The sanctity of economic individualism
Greed is necessary for well-being
The sanctity of the market system
The "Janus Face" of government
What is good for corporations is good for everyone
Capitalism equals democracy
Economic and Financial Innovation are Unassailable
---
http://bostonreview.net/forum/suresh-naidu-dani-rodrik-gabriel-zucman-economics-after-neoliberalism
https://unherd.com/thepost/will-covid-kill-neoliberalism/
xxxx
https://www.1828.org.uk/2020/04/17/no-covid-19-will-not-vanquish-neoliberalism/
xxxxxxx
https://unherd.com/2020/04/could-covid-19-vanquish-neoliberalism/
https://www.wsj.com/articles/how-economics-lost-itself-in-data-11611775849
https://english.elpais.com/opinion/2021-01-25/nostalgia-in-economics.html

https://www.palgrave.com/gp/book/9780230301634
Can capitalism solve capitalism's problems?
http://theconversation.com/can-capitalism-solve-capitalisms-problems-130427
https://theconversation.com/investors-consumers-and-workers-are-changing-capitalism-for-the-better-by-demanding-companies-behave-more-responsibly-119281
xxxxxxxxxxxxxx
Democracy doesn't matter to the defenders of 'economic freedom'
https://www.theguardian.com/commentisfree/2019/nov/11/democracy-defenders-economic-freedom-neoliberalism
xxxxxxxxxxxxxxxx
Bursting the Billionaire Bubble
No, America isn't waiting for a tycoon savior.
By Paul Krugman
Opinion ColumnistPut it this way: These days, many political factions are accused, with varying degrees of justice, of living in some kind of bubble, out of touch with American reality. But few live as thoroughly in a bubble as the billionaire class and its hangers-on.
And now the billionaires in the bubble find themselves in an environment in which concerns about soaring inequality, about the extraordinary concentration of wealth in the hands of the few, finally seem to be getting political traction. And they're not handling it well.
xxxxxxxxx