updates 11-2023 below
itv.com/ 4/2021 A time-lapse video feature launched by Google Earth has drawn on nearly four decades of satellite imagery to vividly illustrate how the impact of humans and climate change have affected the planet.
see also >
---
medium.com/ 10-2023 Is the Economic System Incompatible with Climate Action? From the 1972 Limits to Growth report onwards, we have known our systems are finite. Yet mainstream economics continues to focus on labour and capital, not the planet. by Aznita Pharmy
Many years ago, I was working in a junior position at a global information services provider. It was a few afters after the Y2K hype had died down and my task was to convert hard copy manuals into electronic versions. Naturally, this had to be done via software and on one particular day, it caused some delay. My colleagues and I planned to go to the movies after work. I had one task to finish right before clocking out but there was a glitch in the system, and my colleagues and I ended up leaving the office later than we had planned. Although we made it to the movies on time, my colleagues kept giving me heat and my quote of that day was, "It's not my fault, it was the system's!"
Fast forward almost two decades later, I am beginning to see why the climate movement has made very little traction since the day James Hansen addressed Congress in 1988, the day the 1992 Earth Summit was held in Rio de Janeiro, the day the late Wangari Maathai received the Nobel Peace Prize in 2004, the day governments and businesses promised to "build back better" after the onset of 2020 COVID-19 pandemic, or the many other chances the world has had to change the way we treat the Earth system.
I had not always been interested in economics, but I see now why it is so difficult to change the way we live. It is true that our individual habits and lifestyles, particularly those in developed countries, have contributed to the current climate crisis. However, unless you're a decision-maker involved in the proliferation of industries and policies that transgress the Earth's planetary boundaries, the climate crisis is not entirely your fault — but we all have a role to play in understanding and changing the economic system. My Economics 101 After diving deeply into environmental issues and climate change since the 2010s, I began to wonder how never-ending economic growth could be compatible with nature and the Earth system. What good has increasing…
---
www.hirzel.de – amazon.de 2022 Grenzen des Wachstums – Das 30-Jahre-Update – Signal zum Kurswechsel – von Donella Meadows, Jorgen Randers, Dennis Meadows
swr.de 2022 50-jahre-die-grenzen-des-wachstums-wie-richtig-lag-der-club-of-rome-
miersch.media 2022 Falsche Propheten und ihre journalistischen Jünger – Von Michael Miersch
klimareporter.de/ 2022 Vor 50 Jahren kam die legendäre Studie des Club of Rome heraus. Sie unterschätzte zwar die Verfügbarkeit von Ressourcen, lag aber mit ihrer Warnung vor ungebremstem Wachstum vollkommen richtig. Von Joachim Wille
freidok.uni-freiburg.de/pdf 2006 Von Unsinn bis Untergang: Rezeption des Club of Rome und der Grenzen des Wachstums in der Bundesrepublik der fruhen 1970er Jahre – von Friedemann Hahn
---
>climate solutions
medium.com 8-2023 What I Learned by Writing a Book About Climate Change – It's been a summer of records, but not in a good way – by Palmer Owyoung
It's been a summer of records, but not in a good way. July 2023 was the hottest month in human history, and in the first week of August the global average daily sea surface temperature hit 20.96 C breaking the record of 20.95 C from 2016. Talking about climate change is a bit like talking about having cancer. Everyone knows there's a problem, but nobody wants to talk about it because it's uncomfortable and it's also confusing.
Are we doomed? What are governments doing about the problem? What can I do to help? These are probably some questions you have asked yourself over the past couple of months as temperatures have soared and fires and floods have become ubiquitous. But if there is one thing that you should take away from reading this article, it is this. Climate change is a solvable problem, but we can't trust governments and corporations to solve it alone. We also need individual and collective action, so what you do (or don't do) matters.
I spent two and half years writing and researching my book called Solving the Climate Crisis because I wanted to write a book that was hopeful, without being a Pollyanna. So, I grounded it in science and data and wrote about solutions that are being implemented, along with potential problems and pitfalls we are facing as we move away from fossil fuels and try to mitigate and adapt to climate change.
Now that I am finished, I do feel more hopeful because of the solutions and changes occurring that I learned about while writing the book. But I am also filled with a sense of fear because things aren't happening as quickly as they need to.
You should also understand that there is a difference between being hopeful and being optimistic. Someone who is optimistic sees the glass as half-full, someone who is hopeful asks how they can fill the glass. By writing Solving the Climate Crisis, my goal was to figure out how we can all help fill the glass and build a better future…
see also
---
> climate disinformation
academia.edu – gg/pdf 2021 Climate disinformation adverts: real-world indicators of an online problem – by Mark Pogson
---
>climate crisis, energy, resistance
newstatesman.com 26-7-2023 Dale Vince: "The unions don't get it" – The green energy entrepreneur on why he funds Just Stop Oil. – By Harry Lambert
Dale Vince – a 61-year-old British green energy entrepreneur whose company, Ecotricity, made £38.5m after tax in 2022 – is no fool. So why is he funding Just Stop Oil, a protest movement that can appear foolish? That was the question I came to Stroud, where Ecotricity is headquartered, to ask Vince one recent afternoon.
Vince – who is tall and broad, and wore slim trousers, a big scarf and a loud hoody – came to widespread public notice over the past year after he provided Just Stop Oil, which was founded in Stroud in February 2022, with the funding to get going. He told me that he has since given the group between £200,000 and £300,000. Vince has also donated £1.5m to Labour over the past decade, making him one of the party's biggest donors. The Tories have seized on this connection: Rishi Sunak invoked Vince to draw a link between Labour and Just Stop Oil in a recent fundraising email.
We met in the wake of the Uxbridge and South Ruislip by-election, a seat Labour lost because of the extension by the London mayor, Sadiq Khan, of the Ultra Low Emission Zone to outer London. The scheme bans the use of older fossil fuel-powered cars. Vince was amused that this was being cast as a setback for Labour. "Tony Blair didn't win Uxbridge. So is it a big deal the Tories held it by 495 votes?" he said. The loss came a few weeks after press reports that Keir Starmer "hates tree-huggers". I put the quote to Vince.
"It might be – what do they call it in the Ukraine war? – a false flag operation. It's just something in the press." Vince concedes that Starmer has publicly softened his position on the climate. "There's an election about to be fought. It's careful positioning. I know Labour believes in the green economy."
Vince instead trained his ire on the Tory prime ministers of recent years, whom he sees as culpable for the UK's continued reliance on fossil fuels. He puts the cost of that dependency during last year's energy crisis at £100bn. "David Cameron was the first and the worst. He banned onshore wind and effectively shut down the solar industry [at the time]. Theresa May at least put the net-zero targets into law. Boris Johnson talked a good game, but did nothing. Now we've got Sunak, who says we need decades of transition, which is nonsense. This is what the oil companies say. But the technology is here, we can make this transition in ten years, the National Grid says that we can have 100 per cent green electricity on the grid, and it runs the thing."
"Did he say that? He's parroting Sunak then.
In conversation Vince seemed relaxed about Labour's green policies. "Do you know why? Because the Tories are so f***ing bad for the whole economy, as well as on the climate crisis, that it can only get a shed load better. So I don't agonise over what Labour will or won't do, because I know that if the Tories get back in, we're done."
Politically Vince is on both the Labour Party's right ("Blair did a good job; let's acknowledge it") and left: he has advocated for £50bn in tax rises on wealth. As an environmentalist, he has a rare authority, having built a business that advances the cause (Ecotricity produces 100 megawatts a year of electricity, mainly from windmills). He also owns Forest Green Rovers – the so-called vegan football club – and hopes to build the team a stadium made out of wood.
"We've gone from a time where green energy was an idea for academics and hippies to nearly 50 per cent green electricity on the grid. Now everybody's into it. So the real frontier is not technology, it's not economics, it's not business – it's politics," he said.
[See also: Does the world need green growth or degrowth?]
Just Stop Oil attempts to address the politics. During a visit to the Times in July, Rupert Murdoch asked the newsroom to explain the movement to him. I asked Vince, who last year decided against trying to become Labour's parliamentary candidate for Stroud, to do the same. "We can't afford to drill for new oil and gas," he said, "if we're to have any chance of sticking to a 1.5C° global temperature rise." The government, he added, "is not listening, so what do we do? Take to the streets. It's all we can do."
Just Stop Oil has stopped motorways, defaced artworks and disrupted sporting events. Its actions, I suggested to Vince, are counterproductive. "The media say that all the time. You don't have an outside reference point for this. You accept it to be axiomatic. Disruption makes news." But not good news. "Is there such a thing as bad news if you're trying to create a platform to talk about a problem?" He cited the suffragettes. Change, he said, axiomatically, requires disruption.
Yet no one needed to be arrested for Britain to go from zero to nearly 50 per cent renewable energy on the National Grid: we needed only economic incentives. Vince himself has made this case in the past, saying that "it is economic signals that change behaviour".
How does stopping a doctor getting to work advance the cause? "It's another lever to pull," Vince said. Why pull an ineffective one? "You don't know a lever is ineffective until you pull on it."
After 18 months of protest, I suggested, we do now know the Just Stop Oil movement is ineffective: by a margin of 16 to 51 per cent, voters have an unfavourable view of it. Popularity, Vince countered, is not Just Stop Oil's aim. It is to prevent oil and gas development in the North Sea. I agreed, but was left unsure how unpopularity – and much hostility – will help the group achieve it. Just Stop Oil's activists have so far achieved nothing more than forcing Starmer to disavow their antics.
At one point, Vince referred to Britain as an "ex-world power with delusions of grandeur". But Just Stop Oil itself seems to suffer from the same delusions. Nothing that happens in Britain will have any impact on the ultimate goal of the climate movement: preventing global warming of more than 1.5C°. Britain now accounts for less than 1 per cent of global carbon emissions. The fate of the planet will be decided in China, India and the United States, which collectively account for 51 per cent of global emissions.
"If I followed your path, I'd just give up," Vince said. "We're not important, the world's f***ed unless China gets their act together – I don't accept that." He added that if we don't act "no one's going to listen to us". But will China listen to Britain? It is not listening over the treatment of the Uyghurs in Xinjiang province.
China is, in any case, already becoming "a proper climate powerhouse", Vince said. The state has built more solar panels "than the rest of the world put together" and 98 per cent of all electric buses are in service in China. But it is economic incentives and national self-interest that are transforming the world's biggest polluter, not our moral example, nor the domestic disruption wrought by Just Stop Oil.
In its founding letter the group claimed that trade unions were "finally realising this climate business is not about ice and whales, it's about economic collapse and mass death". In reality, Gary Smith, the general secretary of the GMB, told the New Statesman in September that Labour should back fracking and not kowtow to the "bourgeois environmental lobby".
"I think the unions have been asleep on this issue," Dale Vince said. "There are two and a half times more jobs for every pound we spend on renewable energy. The unions need to wake up to that fact – these industries are old. I think the unions don't get it. Fracking is something the country really doesn't want. Maybe union bosses just haven't spent enough time thinking about it. Or maybe they're just not aware of the economic facts."
>global warming, oceans
10-4-2023 Greenhouse gas 'tipping points' preceded major earlier warming events – By Zack Budryk
Multiple periods of extreme warming in the earth's past followed "tipping points" involving the release of greenhouse gases, according to research published in the journal Science Advances. …
The warming periods in question were already known to have coincided with the mass release into the atmosphere of gases like methane and carbon dioxide, but the data in the analysis is the first to draw a straight line between decreased stability in the climate system and those warming periods.Lawsuit accuses FEMA of improperly failing to consider renewables in rebuilding Puerto Rico's gridPompeo: Macron remarks after China trip 'galling'
"This is exactly what you would expect to see if release of carbon was caused by a carbon cycle tipping point," lead author Shruti Setty, a Ph.D. candidate at Wageningen University & Research, said in a statement. The study follows another, published last December in Nature Climate Change, indicating that current levels of global warming could possibly trigger climate tipping points. The study indicated that even if temperatures are stabilized or lowered, systems have a 50 percent chance of collapse once temperatures surpass 4 degrees Celsius. Researchers found full avoidance of such a scenario would only be possible if global heating was kept below 1 degree Celsius above pre-industrial levels, while levels currently stand at 1.2 degrees above the pre-industrial point.
---
theguardian.com 9-4-2023 Five Times Faster by Simon Sharpe – a radical but realistic path to net zero emissions – review by Bob Ward
A former civil servant makes a persuasive case for dropping economy-wide emissions targets and focusing on tipping points where green technologies become affordable –
Last month's devastating report by the Intergovernmental Panel on Climate Change (IPCC) warns that the world is failing to respond strongly enough to the growing climate crisis. But a new book offers some desperately needed hope that we can speed up efforts to avoid disaster. Simon Sharpe's Five Times Faster outlines a radical but realistic plan for scaling up cuts in global emissions of greenhouse gases so that we reach net zero by 2050 and avoid a rise in global temperature of more than 1.5C.
He starts from the insight that although annual global emissions of greenhouse gases have been rising over the past two decades, this increase has been at a slower rate than the growth in the size of the global economy. Hence the world's economy has become less emissions intensive, by about 1.5% a year, because of the expansion of renewable power, electric vehicles and energy efficiency. However, if the world is to reach net zero emissions by mid-century, we need the decline in emissions intensity to be about 8% a year, five times faster than today. In short, as the global economy grows and energy use increases, we need to replace fossil fuels with cleaner alternatives at a much faster pace … more at source
more at fivetimesfaster.org
---
theguardian.com 8-4-2023 'Headed off the charts': world's ocean surface temperature hits record high – Scientists warn of more marine heatwaves, leading to increased risk of extreme weather – by Graham Readfearn
Climate scientists said preliminary data from the National Oceanic and Atmospheric Administration (Noaa) showed the average temperature at the ocean's surface has been at 21.1C since the start of April – beating the previous high of 21C set in 2016. …
…The data is driven mostly by satellite observations but also verified with measurements from ships and buoys. The data does not include the polar regions. More than 90% of the extra heat caused by adding greenhouse gases to the atmosphere from burning fossil fuels and deforestation has been taken up by the ocean. A study last year said the amount of heat accumulating in the ocean was accelerating and penetrating deeper, providing fuel for extreme weather…
…Current observations show moderate to strong marine heatwaves in several regions, including the southern Indian Ocean, the south Atlantic, off north-west Africa, around New Zealand, off the north-east of Australia and the west of Central America.
…While marine heatwaves can be driven by local weather conditions, studies have shown they have increased in frequency and intensity as the oceans have warmed – a trend forecast to worsen with human-caused global heating. Hotter oceans provide more energy for storms, as well as putting ice sheets at risk and pushing up global sea levels, caused by salt water expanding as it warms. Marine heatwaves can also have devastating effects on marine wildlife and cause coral bleaching on tropical reefs. Experiments have also suggested that warming oceans could radically alter the food web, promoting the growth of algae while lowering the types of species that humans eat….
---
uk.news.yahoo.com 8-3-2023 Nasa map shows which countries are releasing and absorbing CO2 – by Rob Waugh
A Nasa diagram and video shows which countries are releasing and absorbing carbon dioxide around the world – based on satellite observations between 2015 and 2020. The map shows which countries absorbed CO2 (via carbon 'sinks' such as forests) and which emitted it through household and industrial emissions (and other factors).
read more: A 1988 warning about climate change was mostly right – Melting snow in Himalayas drives growth of green sea slime visible from space – Melting snow in Himalayas drives growth of green sea slime visible from space
---
> climate change, environment research, social sciences
ox.ac.uk 6-1-2023 Compound extreme heat and drought will hit 90% of world population – Oxford study

More than 90% of the world's population is projected to face increased risks from the compound impacts of extreme heat and drought, potentially widening social inequalities as well as undermining the natural world's ability to reduce CO2 emissions in the atmosphere – according to a study from Oxford's School of Geography.
(full paper 'Future socio-ecosystem productivity threatened by compound drought–heatwave events' here)
---
theguardian.com 4-1-2023 Why 2023 will be a watershed year for climate litigation – Judgments across public and private sector expected to throw light on worst perpetrators and force action – by Isabella Kaminski
Over the past 12 months, courts from Indonesia to Australia have made groundbreaking rulings that blocked polluting power plants and denounced the human rights violations of the climate crisis. But 2023 could be even more important, with hearings and judgments across the world poised to throw light on the worst perpetrators, give victims a voice and force recalcitrant governments and companies into action.Although the bulk of climate lawsuits have been filed in the US, most have been thrown out of court or bogged down in procedural arguments. This year will, however, finally see a case go to trial when a group of children and young people between the ages of five and 21 square off against the state of Montana. Over two weeks in June, they will argue that the US state is failing to protect their constitutional rights, including the right to a healthy and clean environment, by supporting an energy system driven by fossil fuels…
… (In) Mexico, young people have led several important court cases challenging the slow pace of the country's clean energy system. The supreme court is due to decide whether they are allowed to seek justice in at least one case.
In South Africa – already a hotspot for climate litigation – there could be decisions in several important cases. One, a constitutional challenge to the country's plan to build new coal-fired power stations during the climate crisis, was heard in November and a ruling is expected soon.
Meanwhile, the Australian crucible of successful climate litigation will hear a class action case in June led by Torres Strait islanders Pabai Pabai and Guy Paul Kabai, who argue the state should slash its emissions to save their islands from rising sea levels and other devastating climate impacts….
…At its first public climate hearing in March this year, a group of older Swiss women known as the KlimaSeniorinnen Schweiz will say they are particularly vulnerable to the climate crisis because their health is at risk from heatwaves. They will get to make their arguments in front of the court's grand chamber, which is reserved for the most serious cases, and will be supported by two prominent British lawyers, Jessica Simor and Marc Willers. ……
It is not only governments in the firing line; climate litigation against the private sector will continue to grow. In the US, there might finally be an answer to the question of which courts will handle the plethora of lawsuits against the fossil fuel industry. Companies have been pushing to have these cases heard at the federal level, where they believe they stand more chance of success, but judges have consistently ruled against them. …
---
theguardian.com 29-12-2022 'I am an optimistic person': the scientist who studies climate catastrophes – by Sandra Laville
…"…Otto says she tries to avoid being engulfed by the overwhelming nature of climate crisis impacts.
"I am an optimistic person. It makes me want to do more to make an impact, to get the message across, so that the changes that we need will happen."
Otto could be likened to Dr Randall Mindy, Leonardo DiCaprio's character in the film Don't Look Up. Mindy warns that an asteroid will hit the planet in six months, but finds no one wants to hear his message.
But Otto disliked the film's metaphor. "I felt the analogy was wrong – that there is this big physical threat, which would be fine if only we could invest in technology to fix it.
"Climate change is not like that. It is a social issue we will only be able to deal with if we invest in social systems, make our societies more resilient, less vulnerable and change our economic system from burning fossil fuels."
In the coming year she would like to see climate attribution used much more widely by forecasters to provide a more comprehensive understanding of the role of climate change.
"My team could then focus on the really complex interplay between the social drivers of things like population vulnerability and the climate system, as well as working much more on finding out where we have levers to really bring change."
---
theguardian.com 12-2022 Stop burning trees to make energy, say 650 scientists before Cop15 biodiversity summit – Letter says bioenergy is wrongly deemed 'carbon neutral' and contributes to wildlife loss
…"…Bioenergy has "wrongly been deemed 'carbon neutral'" and many countries are increasingly relying on forest biomass to meet net zero goals, according to the letter, addressed to world leaders including Joe Biden, Rishi Sunak and the European Commission president, Ursula von der Leyen. "The best thing for the climate and biodiversity is to leave forests standing – and biomass energy does the opposite," it says…."…
---
penguin.co.uk 10-2022 The Climate Book by Greta Thunberg
Summary – We still have time to change the world. From Greta Thunberg, the world's leading climate activist, comes the essential handbook for making it happen. You might think it's an impossible task: secure a safe future for life on Earth, at a scale and speed never seen, against all the odds. There is hope – but only if we listen to the science before it's too late. In The Climate Book, Greta Thunberg has gathered the wisdom of over one hundred experts – geophysicists, oceanographers and meteorologists; engineers, economists and mathematicians; historians, philosophers and indigenous leaders – to equip us all with the knowledge we need to combat climate disaster. Alongside them, she shares her own stories of demonstrating and uncovering greenwashing around the world, revealing how much we have been kept in the dark. This is one of our biggest challenges, she shows, but also our greatest source of hope. Once we are given the full picture, how can we not act? And if a schoolchild's strike could ignite a global protest, what could we do collectively if we tried? We are alive at the most decisive time in the history of humanity. Together, we can do the seemingly impossible. But it has to be us, and it has to be now.
With The Climate Book, a stunning and essential new work, Greta Thunberg takes her mission to the next level … [It is] an incredible and moving resource. There are chapters on almost everything you might need to know about … the book is a curated, portable library of knowledge, full of classics. Everyone will get something different from reading this book … Itis an extraordinary body of work and I can't recommend it highly enough. You feel the passion as well as the intellectual heft of the authors, and that is what is so moving about it. It is time for all of us to rise up Rowan Hooper, New Scientist
I would hope it is the kind of book everyone feels they should buy, read and act on: if you've tried to recycle a coffee pod, bought an electric car or started using a reusable water bottle, this book knows the combination of fear, hope and duty that made you do it and has a million more suggestions. It should be a bookcase staple, like Stephen Hawking's A Brief History of Time or Yuval Noah Harari's Sapiens Caitlin Moran, The Times
Spectacular … The scope of this work is planetary in scale. It is a massive undertaking in which Greta Thunberg calls on the best people possible to help her make sense of the rapid trashing of the natural world and the ecosystems life depends on … Ultimately, this is an unexpectedly uplifting volume, fizzing with the world's best science and analysis, and what we can now do with it Harry Cockburn, Independent
This book is superb at explaining the urgency and importance of preventing climate change… its writers weave messages with skill and beauty… this is a campaigning book of course, but much more than that Gaia Vince, Guardian
A compelling read… Thunberg has called upon some of the brightest minds in the fight against global warming Herald
Important and stunningly handsome… this is a superb vademecum Steven Poole, Telegraph
The Climate Book makes for sobering but compelling reading – the kind of book that, once you've finished, you cannot forget Elle
---
ft.com 28-10-2022 UN chief warns 'no credible pathway' to avoid climate disaster
---
updates 10-2022 RestorEarth 21-10-2022 "CLIMATE CHANGE WILL END THE WORLD BY 2100…"
RestorEarth 14-10-2022 "CLIMATE CHANGE IS A PROBLEM OF THE DEVELOPED WORLD…"
RestorEarth 30-9-2022 "HUMANS ARE NOT THE CAUSE OF CLIMATE CHANGE…"
---
---
>eco crisis / climate – biomass, carbon, energy, greenwashing, woodpellets
bbc.co.uk 3-10-2022 Drax: UK power station owner cuts down primary forests in Canada
By Joe Crowley and Tim Robinson
bbc.co.uk 7-2021 The 'green' row over the UK's largest renewable power plant
newyorker.com/ 8-2021 The Millions of Tons of Carbon Emissions That Don't Officially Exist – How a blind spot in the Kyoto Protocol helped create the biomass industry. By Sarah Miller
…" In essence, Drax is a gigantic woodstove. In 2019, Drax emitted more than fifteen million tons of CO2, which is roughly equivalent to the greenhouse-gas emissions produced by three million typical passenger vehicles in one year. Of those emissions, Drax reported that 12.8 million tons were "biologically sequestered carbon" from biomass (wood). In 2020, the numbers increased: 16.5 million tons, 13.2 million from biomass. Meanwhile, the Drax Group calls itself "the biggest decarbonization project in Europe," delivering "a decarbonized economy and healthy forests." The apparent conflict between what Drax does and what it says it does has its origins in the United Nations Conference on Climate Change of 1997…"…
---
theguardian.com 9-2022 Megadrought in the American south-west: a climate disaster unseen in 1,200 year – by Annette McGivney
theguardian.com 9-2022 World heading into 'uncharted territory of destruction', says climate report
Governments and businesses failing to change fast enough, says United in Science report, as weather gets increasingly extreme – by Fiona Harvey
---
theguardian.com 9-2022 'Africa is on the frontlines but not the front pages': Vanessa Nakate on her climate fight – The new Unicef goodwill ambassador would like to see reparations from nations most responsible for climate crisis – by Nina Lakhani
…"…On the recent Kenya trip, Nakate met a young man who asked her why countries in the global north contribute the most emissions but places like Turkana suffer the most. "He thought they must have done something wrong … it was really hard to explain to him why those being impacted the most are the least responsible, and that's one of the horrible realities of the climate crisis.
"There are people who are looking for answers to a question that needs to be answered through much needed reparations and responsibility from the global north."
The 54 countries in Africa combined account for 15% of the world's population but contribute less than 4% of global greenhouse emissions – in contrast to 23% by China, 19% by the US, and 13% from the European Union.
Nakate, a born-again Christian, said: "Having dominion over the Earth is about responsibility and service to the planet and its people, because God is not a God of waste and exploitation." …"…
---
theguardian.com 4-9-2022 Rich nations owe reparations to countries facing climate disaster, says Pakistan minister – by Nina Lakhani, Shah Meer Baloch
---
economist.com 9-2022 Asia Under water – Pakistan has been hit by its worst floods in recent memory – It was already reeling from economic and political crises
bbc.co.uk 2-9-2022 How Pakistan floods are linked to climate change – By Georgina Rannard
…"…A sense of injustice is keenly felt in the country. Pakistan contributes less than 1% of the global greenhouse gases that warm our planet but its geography makes it extremely vulnerable to climate change.
"Literally, one-third of Pakistan is underwater right now, which has exceeded every boundary, every norm we've seen in the past," Climate minister Sherry Rehman said this week.
Pakistan is located at a place on the globe which bears the brunt of two major weather systems. One can cause high temperatures and drought, like the heatwave in March, and the other brings monsoon rains.
The majority of Pakistan's population live along the Indus river, which swells and can flood during monsoon rains.
The science linking climate change and more intense monsoons is quite simple. Global warming is making air and sea temperatures rise, leading to more evaporation. Warmer air can hold more moisture, making monsoon rainfall more intense.
Scientists predict that the average rainfall in the Indian summer monsoon season will increase due to climate change, explains Anja Katzenberger at the Potsdam Institute for Climate Impact Research.
But Pakistan has something else making it susceptible to climate change effects – its immense glaciers.
The northern region is sometimes referred to as the 'third pole' – it contains more glacial ice than anywhere in the world outside of the polar regions…."…
---
bbc.co.uk 8-2022 US climate bill success masks scale of warming challenge – by Matt McGrath
Many are hailing a landmark US bill approved by the US Senate as a game changer for American and global efforts to tackle the root causes of rising temperatures.
"But how will the Inflation Reduction Act (IRA) work and what will it achieve in terms of reining in global temperatures? Attempts to curb fossil fuel emissions from power plants have fallen foul of the US courts, so President Joe Biden's administration has gone with a tried and tested approach – putting cash in the hands of voters. Consumers will get incentives under the bill to purchase new and second-hand electric cars, to warm their homes with heat pumps and even to cook their food using electric induction. …" …
---
theconversation.com 5-7-2022 Methane emissions reach new highs despite pandemic – they are four times more sensitive to climate change than first thought
---
theguardian.com 7-2022 The 1977 White House climate memo that should have changed the world – by Emma Pattee
…"…Years before the climate crisis was part of national discourse, (a) memo to the president predicted catastrophe … (It) outlined what was known – and feared – about the crisis at the time. It was prescient in many ways. Did anyone listen? …
… Still, it seems possible that if Carter had been re-elected, the world might have been in a better position regarding climate impacts today. One of the first things Reagan did after winning the election in 1981 was take down the White House solar panels. Meanwhile, the fossil fuel industry – whose scientists were already studying the ways that fossil fuels were changing the climate – started spending tens of millions of dollars sowing doubt about climate science. …
Those protocols set the stage for the first international effort to tackle climate policy on a global level. So even if Press's memo had a muted impact at the time, his warning wasn't entirely ignored."
---
theguardian.com 29-5-2022 Observer editorial on the summits that forecast global environmental dangers – Fifty years after our first warning, and humankind is still failing to protect the Earth
---
independent.co.uk 27-5-2022 ClimateNews – Rishi Sunak offers tax incentives to fossil fuel firms despite climate emergency – Chancellor's plan 'makes us an embarrassment on the world stage' says Caroline Lucas
---
theguardian.com 21-5-2022 Peter Kalmus: 'As a species, we're on autopilot, not making the right decisions' – The Nasa data scientist explains why inaction on the climate crisis pushed him to chain himself to an LA bank – and why trusting in the 'people in charge' is so dangerous – by Ian Tucker
---
theverge.com 18-5-2022 Why tech giants' cash is a hidden source of greenhouse gas emissions – Big Tech can do much more to stop banks from using their cash to finance fossil fuels, report says – By Justine Calma
---
jksteinberger.medium.com 10-5-2022 Eco Crisis: The kids are not ok – by Julia Steinberger
"Today I went to give a climate talk at my old high school in Geneva — and was given a masterclass in our failings. This is the story of a day that shook me up. I have given climate talks at high schools before. In 2019, I was invited by the first Geneva climate strikers to go around the high schools on the morning of their first strike. … Back then, the mood was electric, excited, engagedI went. … Fast forward three years (and a pandemic) later, and the mood could not have been more different. I sensed it as I was speaking, a general muttering in the auditorium full of 16–17-year-olds, that sometimes ebbed a bit, but never really went away. I thought the students might be bored by the specific aspects I was talking about. … I raced through the topics, hoping to reach one they would be interested in. And at the end, during the Q&A, it finally came out. One girl took the mic and held on to it. Her questions came fast and clear, and were widely applauded by her peers. She was clearly channelling the zeitgeist of the room. This is my recollection of some of her questions:
"Why are you here talking to us? We can't do anything. Only politicians, only business leaders, can make the big changes you are talking about. Why aren't you talking to them?"
"Why do you talk to us about optimism [Note: I had not, actually, but perhaps my presentation had been announced as such. Who knows.], about possible actions, when we all know that none of that will happen?"
"All these people in power have known about this problem for so long. Yet the IPCC comes out with report after report explaining we have to act within just a few years — and nothing happens, nothing changes. Why do you think this talk of yours to us can do anything?"
"Why are you here talking to us? We can't do anything. Only politicians, only business leaders, can make the big changes you are talking about. Why aren't you talking to them?"
"Why do you talk to us about optimism [Note: I had not, actually, but perhaps my presentation had been announced as such. Who knows.], about possible actions, when we all know that none of that will happen?"
"All these people in power have known about this problem for so long. Yet the IPCC comes out with report after report explaining we have to act within just a few years — and nothing happens, nothing changes. Why do you think this talk of yours to us can do anything?"
read whole article on gg page or at medium.com
---
theatlantic.com/science/archive/2022/05/earth-science-education-climate-change
---
theguardian.com/commentisfree 6-4-2022 – scientists-climate-crisis-ipcc-report
---
theconversation.com7-2020 John Tyndall: the forgotten co-founder of climate science – by Roland Jackson
It is surprising that the Irish scientist John Tyndall, born 200 years ago on August 2 1820, is not better known. This is despite the existence of the Tyndall Centre for Climate Change Research, the Tyndall National Institute and the Pic Tyndall summit on the Matterhorn in the Alps. There are even several Mount Tyndalls, Tyndall glaciers and Tyndall craters on the Moon and Mars.
From that, you could surmise that he was both a significant scientist and a notable mountaineer. Yet, due to unfortunate circumstances, he is no household name.
In 1859, Tyndall showed that gases including carbon dioxide and water vapour can absorb heat. His heat source was not the Sun, but radiation from a copper cube containing boiling water. In modern terms, this was infrared radiation – just like that emanating from the Earth's surface.
Previous work had shown that the Earth's temperature was higher than expected, which was put down to the atmosphere acting as an insulator. But no-one knew the explanation for what we now call the greenhouse effect – gases in the atmosphere trapping heat.
What Tyndall did was to discover and explain this mechanism. He wrote: "Thus the atmosphere admits of the entrance of the solar heat; but checks its exit, and the result is a tendency to accumulate heat at the surface of the planet."
He realised that any change in the amount of water vapour or carbon dioxide in the atmosphere could change the climate. His work therefore set a foundation for our understanding of climate change and meteorology.
Tyndall was not, however, the first to make the climate link. That prize goes to the American Eunice Foote, who showed in 1856 using sunlight that carbon dioxide could absorb heat. She suggested that an increase in carbon dioxide would result in a warmer planet.
Research suggests Tyndall was unaware of her work. He would no doubt have been surprised to find that an amateur woman had beaten him to a general demonstration of the absorption of heat by carbon dioxide. To his discredit, he did not believe that women possessed the same creative abilities in science as men. …"…
---
---
iea.org/ 8-3-22 Global CO2 emissions rebounded to their highest level in history in 2021- Increased use of coal was the main factor driving up global energy-related CO2 emissions by over 2 billion tonnes, their largest ever annual rise in absolute terms – Global energy-related carbon dioxide emissions rose by 6% in 2021 to 36.3 billion tonnes, their highest ever level, as the world economy rebounded strongly from the Covid-19 crisis and relied heavily on coal to power that growth, according to new IEA analysis released today.
---
priceofoil.org 7-2021 Carbon Capture: Five Decades of False Hope, Hype, and Hot Air BY ANDY ROWELL
---
ehn.org 16-2-2022 Replacing environmental despair with hope and action – It's hard to avoid eco-anxiety. But by detoxing our social media feeds and focusing on community, we can all find good news and inspire change. – by Cielo Sharkus
>eco crisis/ climate, misinformation
guardian.com 7-3-22 Our climate solutions are failing – and Big Oil's fingerprints are all over them – For the first time, a IPCC report has acknowledged the role of misinformation. But it still doesn't name the culprits by – The second part of the IPCC's most recent report was published last week, and it finally acknowledged the oil industry's biggest contribution to the climate space thus far: misinformation. by Amy Westervelt
---
>eco crisis/ climate, research now
theguardian.com 28-2-2022 IPCC issues 'bleakest warning yet' on impacts of climate breakdown Report says human actions are causing dangerous disruption, and window to secure a liveable future is closing
---
theguardian.com 2/12/2021 Climate costs: Bjørn Lomborg accused of misinterpreting results – – A key claim in a column by the Danish thinktank head frustrates scientists who modelled reducing emissions – by Graham Readfearn
…"The cited figure does appear in a supplementary section of the paper. But the authors of the study (which actually appeared in Nature Climate Change, not Nature) have told Temperature Check they have been asking Lomborg since early November to stop making that claim. Prof David Victor, of University of California San Diego, said Lomborg's summary "took the results out of context and used them for a purpose that we explicitly said they were not to be used, and which he was reminded of when he asked for the underlying data"….
Also in the op-ed, Lomborg gave examples of where voters around the world had rejected new policies to lower emissions because of their cost. He cites a survey, also from the US, where he says "most respondents were unwilling to spend even $US24 a year". The survey is from September 2019 – right in the middle of the presidency of Donald Trump, who thought climate change was a hoax and pulled out of the Paris climate agreement because he said it was costing Americans too much.
Yet the same survey also found 60% of people would support raising taxes on companies that burned fossil fuels "even if it may lead to increased electricity and transport prices". Lomborg wrote that people in Switzerland had "said no to a new carbon tax" without outlining that the country already has a price on greenhouse gas emissions of $180 a tonne. He was referring to a referendum in June where Swiss voters narrowly rejected raising the cost to $320 a tonne, by a margin of 51.6% to 48.4%.
In emerging economies, Lomborg said, leaders saw demands to reach net zero by 2050 as "unjust because it stopped poor countries from developing their economies". Lomborg then quoted the president of Uganda, Yoweri Museveni, from an article he wrote in the Wall Street Journal, saying African nations should be allowed to move more slowly away from fossil fuels, without mandates on solar and wind power. He quoted Museveni as saying: "Africans have a right to use reliable, cheap energy." But the full stop came too early. What Museveni actually said was: "Africans have a right to use reliable, cheap energy and doing so doesn't prevent the development of the continent's renewables." …"…
gg caw Bjørn Lomborg is head of "The Copenhagen Consensus Center , "…a think tank that researches and publishes the smartest solutions to the world's biggest problems. Our studies are conducted by more than 300 economists from internationally renowned institutions, including seven Nobel Laureates, to advise policymakers and philanthropists how to achieve the best results with their limited resources. – Copenhagen Consensus is an outstanding, visionary idea and deserves global coverage" – The Economist"
---
>eco crisis/ climate – knowledge of, who knew what when, research history
theconversation.com/ 21-2-2022 Guy Callenda -A mild-mannered biker triggered a huge debate over humans' role in climate change – in the early 20th century. Sylvia G. Dee
"In 1938, a British engineer and amateur meteorologist made a discovery that set off a fierce debate about climate change. Scientists had known for decades that carbon dioxide could trap heat and warm the planet. But Guy Callendar was the first to connect human activities to global warming. He showed that land temperatures had increased over the previous half-century, and he theorized that people were unwittingly raising Earth's temperature by burning fossil fuels in furnaces, factories and even his beloved motorcycles. When Callendar published his findings, it set off a firestorm. The scientific establishment saw him as an outsider and a bit of a meddling gentleman scientist. But, he was right. His theory became widely known as "the Callendar Effect." Today, it's known as global warming. Callendar defended his theory until his death in 1964, increasingly bewildered that the science met such resistance from those who did not understand it.
Building on over a century of climate science: A theoretical basis for climate change had been developed over the 114 years leading up to Callendar's research. Scientists including Joseph Fourier, Eunice Foote, John Tyndall and Svante Arrhenius had developed an understanding of how water vapor in the Earth's atmosphere trapped heat, noted that carbon dioxide in the atmosphere also absorbed large quantities of heat and speculated about how increasing fossil fuel use could raise Earth's temperature and change the climate. However, these scientists spoke only of future possibilities. Callendar showed global warming was already happening. …
Perhaps most importantly, Callendar recognized that new data on the heat absorption of carbon dioxide at wavelengths different from that of water vapor meant that adding carbon dioxide would trap more heat than water vapor alone. … After Callendar published his paper, global warming caused by human activities generating carbon dioxide was widely referred to as the "Callendar Effect." However, his 1938 view was limited. Callendar did not foresee the magnitude of temperature rise that the world now faces, or the danger. He actually speculated that by burning carbon we might forestall "the return of the deadly glaciers." His paper projected a 0.39 degree Celsius temperature rise by the 21st century. The world today is already 1.2 C (2.2 F) warmer than before the industrial era – three times the magnitude of the effect Callendar predicted.
Backlash to the human connection: The "Callendar Effect" faced immediate resistance. Comments of initial reviewers questioned his data and methods. The debate Callendar ignited continued through the rest of the 20th century. Temperature and carbon dioxide data, meanwhile, accumulated. …Scientists from around the world, brought together by the United Nations and the World Meteorological Organization, have been reviewing the research and evidence since 1990. Their reports confirm: The science is clear about humans' role in climate change. The danger is real and the effects of climate change are already evident all around us. …"…
---
theguardian.com/ 7-2021 Sixty years of climate change warnings: the signs that were missed (and ignored) – The effects of 'weird weather' were already being felt in the 1960s, but scientists linking fossil fuels with climate change were dismissed as prophets of doom – by Alice Bell
---
theguardian.com/ 7/2021 Sixty years of climate change warnings: the signs that were missed (and ignored) – The effects of 'weird weather' were already being felt in the 1960s, but scientists linking fossil fuels with climate change were dismissed as prophets of doom – by Alice Bell, Sylvia G. Dee
---
https://www.visualcapitalist.com/visualizing-the-3-scopes-of-greenhouse-gas-emissions/
---
>eco crisis / climate – biomass, carbon, energy
newyorker.com/ 8-2021 The Millions of Tons of Carbon Emissions That Don't Officially Exist – How a blind spot in the Kyoto Protocol helped create the biomass industry. By Sarah Miller
…"I had come to Drax to understand how this power station is "enabling a zero carbon, lower cost energy future," as described by the annual report of the Drax Group, which operates four renewable-energy plants across England and Scotland. The Drax plant, which dates back to 1974, used to burn coal, but it has spent the last few years transitioning to "sustainably sourced biomass," more commonly known as wood pellets. In essence, Drax is a gigantic woodstove. In 2019, Drax emitted more than fifteen million tons of CO2, which is roughly equivalent to the greenhouse-gas emissions produced by three million typical passenger vehicles in one year. Of those emissions, Drax reported that 12.8 million tons were "biologically sequestered carbon" from biomass (wood). In 2020, the numbers increased: 16.5 million tons, 13.2 million from biomass. Meanwhile, the Drax Group calls itself "the biggest decarbonization project in Europe," delivering "a decarbonized economy and healthy forests." The apparent conflict between what Drax does and what it says it does has its origins in the United Nations Conference on Climate Change of 1997…"…
---
eco crisis / climate, carbon sinks
theguardian.com 11/2021 Blue carbon: With the ocean key to meeting 1.5C, all eyes are now on the vital but overlooked "big three" marine ecosystems – seagrass, mangroves and salt marshes
Part 1: The hidden CO2 sink that pioneers say could save the planet
see also in the guardian
---
nature.com 2021 Mapping the irrecoverable carbon in Earth's ecosystems – Nature Sustainability
Monica L. Noon, Allie Goldstein, Juan Carlos Ledezma, Patrick R. Roehrdanz, Susan C. Cook-Patton, Seth A. Spawn-Lee, Timothy Maxwell Wright, Mariano Gonzalez-Roglich, David G. Hole, Johan Rockström & Will R. Turner
ABSTRACT: Avoiding catastrophic climate change requires rapid decarbonization and improved ecosystem stewardship at a planetary scale. The carbon released through the burning of fossil fuels would take millennia to regenerate on Earth. Though the timeframe of carbon recovery for ecosystems such as peatlands, mangroves and old-growth forests is shorter (centuries), this timeframe still exceeds the time we have remaining to avoid the worst impacts of global warming. There are some natural places that we cannot afford to lose due to their irreplaceable carbon reserves. Here we map 'irrecoverable carbon' globally to identify ecosystem carbon that remains within human purview to manage and, if lost, could not be recovered by mid-century, by when we need to reach net-zero emissions to avoid the worst climate impacts. Since 2010, agriculture, logging and wildfire have caused emissions of at least 4.0 Gt of irrecoverable carbon. The world's remaining 139.1 ± 443.6 Gt of irrecoverable carbon faces risks from land-use conversion and climate change. These risks can be reduced through proactive protection and adaptive management. Currently, 23.0% of irrecoverable carbon is within protected areas and 33.6% is managed by Indigenous peoples and local communities. Half of Earth's irrecoverable carbon is concentrated on just 3.3% of its land, highlighting opportunities for targeted efforts to increase global climate security.
---
theconversation.com/ 23/11/2021 Why the oil industry's pivot to carbon capture and storage – while it keeps on drilling – isn't a climate change solution – by June Sekera, Neva Goodwin
After decades of sowing doubt about climate change and its causes, the fossil fuel industry is now shifting to a new strategy: presenting itself as the source of solutions. This repositioning includes rebranding itself as a "carbon management industry." This strategic pivot was on display at the Glasgow climate summit and at a Congressional hearing in October 2021, where CEOs of four major oil companies talked about a "lower-carbon future." That future, in their view, would be powered by the fuels they supply and technologies they could deploy to remove the planet-warming carbon dioxide their products emit – provided they get sufficient government support. That support may be coming. The Department of Energy recently added "carbon management" to the name of its Office of Fossil Energy and Carbon Management and is expanding its funding for carbon capture and storage.
But how effective are these solutions, and what are their consequences? Coming from backgrounds in economics, ecology and public policy, we have spent several years focusing on carbon drawdown. We have watched mechanical carbon capture methods struggle to demonstrate success, despite U.S. government investments of over US$7 billion in direct spending and at least a billion more in tax credits. Meanwhile, proven biological solutions with multiple benefits have received far less attention.
---
sciencenews.org 11/2021 A new map shows where carbon needs to stay in nature to avoid climate disaster – Releasing the carbon stored in vulnerable ecosystems could push global warming past 1.5 degrees Celsius – by Jonathan Lambert
---
theguardian.com/ 21/11/2021 Climate denial is waning on the right. What's replacing it might be just as scary by Oliver Milman
…"This wrapping of ecological disaster with fears of rampant immigration is a narrative that has flourished in far-right fringe movements in Europe and the US and is now spilling into the discourse of mainstream politics. … Simply ignoring or disparaging the science isn't the effective political weapon it once was. "We are seeing very, very little climate denialism in conversations on the right now," said Catherine Fieschi, a political analyst and founder of Counterpoint, who tracks trends in populist discourse. But in place of denial is a growing strain of environmental populism that has attempted to dovetail public alarm over the climate crisis with disdain for ruling elites, longing for a more traditional embrace of nature and kin and calls to banish immigrants behind strong borders…"…
---
news.sky.com 10/2021 Who should pay the world's climate debt? New research suggests that developed countries should pay almost double the amount proposed under the Paris Agreement to offset their historical emissions. by Amy Borrett
…"Now, new research from the Center for Global Development (CGD) estimates that members of the Organisation for Economic Co-operation and Development (OECD) should commit almost double this amount – $190bn (£138bn) a year – until 2100. Brian O'Callaghan, lead of the Oxford University Economic Recovery Project, says that the developed world now needs to face up to "climate colonialism". He added: "As rich countries, we industrialised early, effectively buying ourselves economic prosperity at the cost of significant carbon emissions. These emissions now threaten lives and livelihoods in developing nations. Since industrialisation began, high-income economies have produced three-fifths of the world's historical carbon emissions, almost 100 times more than the proportion produced by low-income countries. … Brian O'Callaghan from Oxford University says that it is "impossible" to address the impacts of climate change without significant international support for these developing economies. "As much as they might like to catalyse a green transition, governments [of most developing countries] simply don't have the cash to do so," he said. "This is where rich nations must correct their past wrongs." …"
---
cdef.org.blog 28/10/2021 COP26 and Beyond: CGD's Work on Coherence and Effectiveness in Climate Finance and Policy by Masood Ahmed
"With COP26 about to get underway, many of the opportunities and tensions inherent in the international community's approach to supporting climate change transformation are rising to the surface. Within the rich body of work which is ongoing within this area, CGD's focus is on shaping and improving climate and finance policy to ensure it does the most for the development, and the planet …"…
---
ft.com 20/10/2021 Green shoots – words of hope on the climate crisis – Three books present a case for optimism ahead of the COP26 summit, and in the face of looming environmental catastrophe ECO crisis hope – by P Clarke FT – > J Goodall, D Abrams, C Butfield, J Hughes, K Hayhoe
theguardian.com 11/2021 Saving Us by Katharine Hayhoe review – across the climate crisis divide – A scientist and gifted speaker makes a convincing case for calm, informed discussions in the race to avert catastrophe – by Bob Ward
It's not an exaggeration to say that Saving Us: A Climate Scientist's Case for Hope and Healing in a Divided World is one of the more important books about climate change to have been written. Much of the literature to date feeds the appetite of readers who are already interested in the issue, but this book by Katharine Hayhoe, an internationally renowned climate scientist, could result in a massive expansion of interest in the subject.
theguardian.com 11/2021 Leading climate scientist Katharine Hayhoe: 'You have the ability to use your voice' by Emma Pattee
…"…There has long been a debate about how much individual actions matter when it comes to climate. The oil industry's promotion of the concept of the carbon footprint has led some to believe that the whole idea is a huge distraction technique to divert attention from corporations driving the crisis. But as Greta Thunberg demonstrates, individuals can have a big impact, just not always in ways that can be measured. Part of the challenge is that we have no good way to conceptualize our impact as individuals. I came up with the concept of a "climate shadow" to try to help visualize how the sum of our life choices influences the climate emergency. Your shadow includes the car you drive and what you eat, but it's also about where you work, how you engage in the workplace, where you invest your money and how much you talk about climate…"…
---
phys.org 10/2021 Carbon removal will cost as much annually as the NHS budget, but research shows polluters could pay by University of Oxford – Professor Jim Hall, Professor of Climate and Environmental Risk, and Johannes Bednar, Oxford University Centre for the Environment and the International Institute for Applied Systems Analysis, write:
…"The trouble is, there is no political or economic mechanism to establish responsibility for large-scale removal of CO2 and it will not be cheap …
An international team of researchers, led by the University of Oxford and the International Institute for Applied Systems Analysis (IIASA), has come up with a solution to this intergenerational dilemma. In a Nature paper, Operationalizing the net-negative carbon economy, they argue that, when the remaining quantity of carbon emissions compatible with 1.5 degrees Celsius warming has been consumed, emitters should no longer pay to store carbon in the atmosphere until the end of time, as they conveniently do under current carbon taxes and emission trading schemes (ETS). Instead, emitting parties should pay a fee to temporarily store CO2 in the atmosphere. In other words, emitters become 'carbon debtors', responsible for subsequent CO2 removal and obliged to pay interest on their debt to account for the implied risks, such as the potential default of carbon debtors.
A financial instrument, a 'carbon removal obligation', could be used to apply the 'polluter pays principle' to financing CO2 removal, and it could be neatly integrated into existing emission trading architectures. The good news is, as soon as emitters become responsible for removing their future share of CO2, it seems likely, fewer emissions will be produced in the first place. Under this scenario, the paper envisages a faster transformation to carbon-neutral practices. Importantly, if carbon removal is cheap and scalable, such technologies would be rolled-out at large scale in the near term, to achieve net-zero more quickly.
Carbon removing technologies then no longer serve as an excuse to delay mitigation at the expense of future generations, instead they become essential components of the near-term mitigation mix helping to reduce the amount of global carbon debt. The researchers argue that this is key to promote learning and reveal costs, socioenvironmental co-benefits and hazards; and to lift the promising options for carbon removal out of the pilot phase. …"…
---
theguardian.com 10/2021 Hot Air by Peter Stott review – the battle against climate change – the battle against climate change denial – A personal account of one climate scientist's struggle to promote facts in the face of contrarian prejudice by Philip Ball
"How on earth did we get here? How did we arrive in a world where temperatures in British Columbia can come within a whisker of 50C, where a ring of fire made Athens look apocalyptic, massive floods ripped apart towns in Belgium and Germany – yet still there is no international plan for how to keep the world habitable by the end of the century, and those protesting about that are labelled extremists? … (The book) … exposes the sustained efforts of a coalition of business lobbies, politicians, maverick scientists and contrarian attention-seekers to discredit and undermine that enterprise – efforts that continue even now, as the world literally burns. … It is not hard to fathom the motives of the oil companies, nor those of the conservative thinktanks they have funded, such as the George C Marshall Institute or the Koch Foundation. But in the UK such denialism is kept in the public eye by a small band of professional contrarians including James Delingpole, Sherelle Jacobs and Peter Hitchens via outlets such as the Telegraph, Spectator and Mail on Sunday – the same people and media that have argued against life-saving measures to prevent the spread of Covid-19. The Venn-diagram overlap on these two unrelated issues is so complete that we're clearly looking at a psychological issue … More puzzling are the maverick scientists who throw their lot in with the denialist cause. Here again, though, there is a pattern of contrarianism. Before they became key climate-deniers, the environmental scientists Fred Singer and Patrick Michaels argued that ozone depletion had little or nothing to do with human activities, either. That case, too, was "scientific hokum", Stott says. Yet denialism pays: Singer and Michaels have been generously supported by fossil-fuel companies.
---
theguardian.com 10/2021 Fossil fuel companies paying top law firms millions to 'dodge responsibility' – Over the last five years, the 100 top law firms in the US represented fossil fuel clients in 358 legal cases and transactions worth $1.36tn by Isabella Kaminski
…"Over the last five years, the 100 top ranked law firms in the US facilitated $1.36tn of fossil fuel transactions, represented fossil fuel clients in 358 legal cases and received $35m in compensation for their work to assist fossil fuel industry lobbying, according to a "climate scorecard" published in August. … Fossil fuel companies rely heavily on armies of lawyers to advise on projects, lobby, negotiate contracts, secure permits and navigate an increasing number of climate lawsuits. Law firms' fossil fuel industry work has increased compared with the previous year's scorecard, even as climate warnings become more dire and the International Energy Agency has warned new fossil fuel development is incompatible with the target of net zero emissions by 2050. …"…
theguardian.com/ 6/10/2021 Fossil fuel industry gets subsidies of $11m a minute, IMF finds – Trillions of dollars a year are 'adding fuel to the fire' of the climate crisis, experts say by Damian Carrington
…"The comprehensive IMF report found that prices were at least 50% below their true costs for 99% of coal, 52% of diesel and 47% of natural gas in 2020. Five countries were responsible for two-thirds of the subsidies: China, the US, Russia, India and Japan. Without action, subsidies will rise to $6.4tn in 2025, the IMF said. …"…
---
bbc.co.uk 6/10/2021 Climate change: Voices from global south muted by climate science
By Matt McGrath
Climate change academics from some of the regions worst hit by warming are struggling to be published, according to a new analysis. The study looked at 100 of the most highly cited climate research papers over the past five years. Less than 1% of the authors were based in Africa, while only 12 of the papers had a female lead researcher. The lack of diverse voices means key perspectives are being ignored, says the study's author. Researchers from the Carbon Brief website examined the backgrounds of around 1,300 authors involved in the 100 most cited climate change research papers from 2016-2020. They found that some 90% of these scientists were affiliated with academic institutions from North America, Europe or Australia. …"…
---
bbc.co.uk 6/10/2021 Nobel in physics: Climate science breakthroughs earn prize – By Paul Rincon
Three scientists have been awarded the 2021 Nobel Prize in Physics for their work to understand complex systems, such as the Earth's climate. Syukuro Manabe, Klaus Hasselmann and, Giorgio Parisi were announced as the winners at an event in Stockholm.
---
theguardian.com 10/2021 Greta is right': climate pledges must be matched by action, say Mars executives
The company will tie executive pay to emissions reduction and eliminate deforestation through its supply chain by Dominic Rushe
…"Grant Reid's comments, and those of Mars's chief sustainability and procurement officer, Barry Parkin, come after the climate activist Greta Thunberg condemned many of the climate actions promised by global leaders as so much "blah, blah, blah". … "There are hundreds if not thousands of companies that have made net zero commitments. We need millions of companies," he said. "Ultimately the planet doesn't care about the commitment, it cares about the action."…
---
theguardian.com 9/2021 Green growth' doesn't exist – less of everything is the only way to avert catastrophe – It is simply not possible to carry on at the current level of economic activity without destroying the environment – by George Monbiot
---
avaaz.org/page/en/ 23/9/2021 What is climate anxiety? – "I grew up being afraid of drowning in my own bedroom" – Mitzi Tan, 23, the Philippines – Avaaz members just funded the biggest-ever survey on climate anxiety in children and young people — surveying 10,000 people in 10 countries around the world. In every country, it shows that anxiety about the planetary crisis is very high, and it's not just because we're witnessing devastating climate disasters, it's also linked to governments consistently failing to take decisive, meaningful action to stop the crisis. Here's what the study found:
45% – Nearly half of global youth surveyed (45%) say climate anxiety is affecting their daily lives: how they play, eat, study, and sleep.
75% – More than seven in ten (75%) believe "the future is frightening" — jumping to 81% of youth surveyed in Portugal and 92% in the Philippines.
58% – 58% said governments were "betraying me and/or future generations," while 64% said their governments are not doing enough to avoid a climate catastrophe.
39% – Almost four in ten youngsters (39%) said they are now hesitant about having children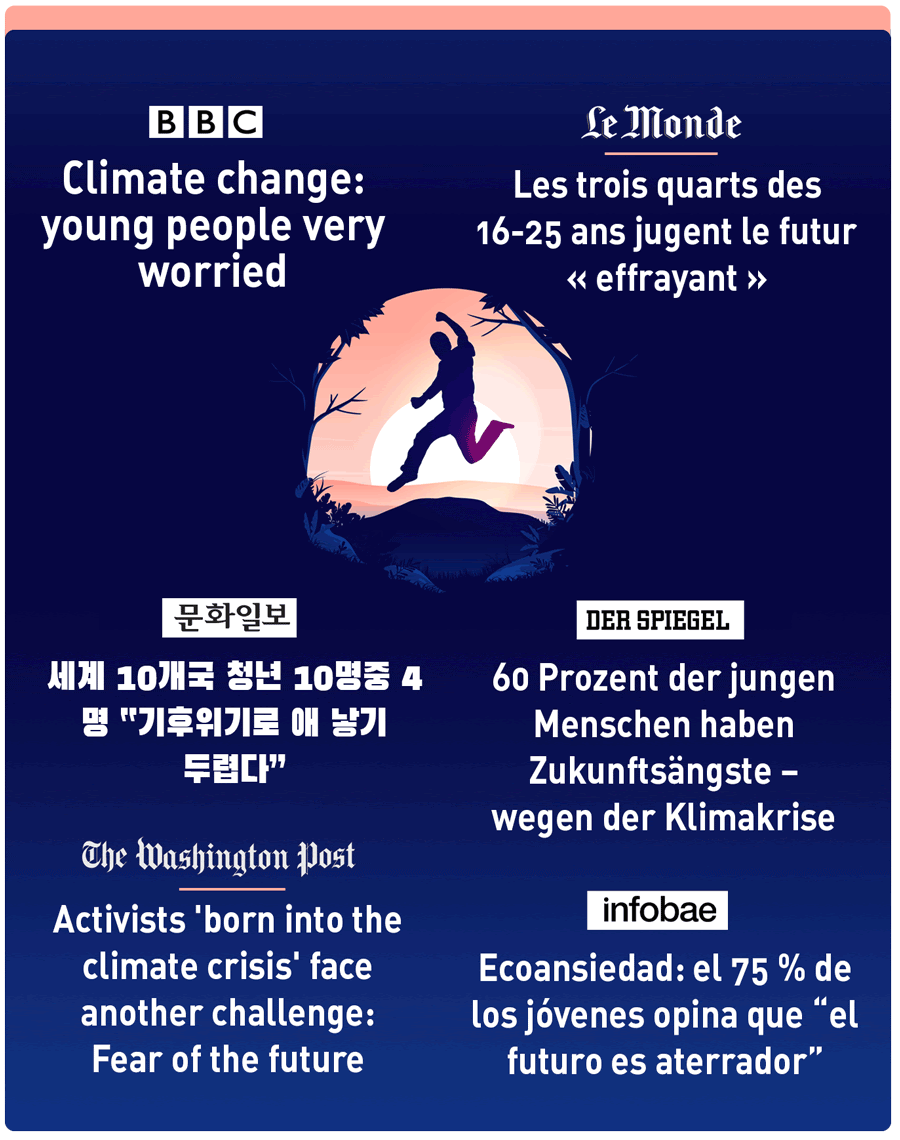 ---
bbc.co.uk/ 21/9/2021 A trip to a melting glacier will shape how the BBC's new climate editor, Justin Rowlatt, reports on the story of climate change.
…"When we finally flew over the front of the enormous glacier after weeks of travelling, I found myself staring down at an epic vision of shattered ice. As I wrote at the time, it felt like I'd reached the frontline of climate change; a place where the equilibrium that has held our world in balance for thousands of years was slipping and crashing.
Satellite monitoring shows that the overall rate of ice loss from West Antarctica has increased five-fold over a 25-year period. This one glacier – Thwaite's glacier – alone now accounts for 4% of global sea level rise. Needless to say, this acceleration is a result of us humans polluting the air with greenhouse gases. That fact explodes any impression that the ice is overwhelming. The opposite is true, we are overwhelming the ice."…
---
economist.com 15/9/2021 The world's biggest carbon-removal plant switches on – Despite high prices, customers are lining up
…"…the plant's creators hope it will mark a big shift in humanity's interaction with the climate. Orca is, for now, the largest installation in the infant "direct air capture" industry, which aims to remove CO2 from the atmosphere. When sealed underground such CO2 counts as "negative emissions"—an essential but underdeveloped method for tackling global warming. To stop temperatures rising by 1.5°C or even 2°C above pre-industrial averages, as per the Paris climate agreement, hundreds or thousands of billions of tonnes of CO2 will have to be removed from the atmosphere in the second half of the century."…
---
brill.com/view/journals 3/2021 Seize the Means of Carbon Removal: The Political Economy of Direct Air Capture Andreas Malm,Wim Carton
… "We here examine the technology of direct air capture, tracing its intellectual origins and laying bare the political economy of its current manifestations. We find a space crowded with ideology-laden metaphors, ample fossil-capital entanglements and bold visions for a new, ethereal frontier of capital accumulation. These diversions must be cut short if a technology with the capacity to help repair at least some climate damage is to be of any use. Only socialising the means of removal will allow this to happen."…
Keywords: carbon removal; negative emissions; direct air capture; climate-change mitigation; political economy; carbon capture and usage
---
---
globalecoguy.org/ 3/2021 7 Reasons Why Artificial Carbon Removal is Overhyped – Artificial carbon removal is largely a sideshow when it comes to climate change. At best, it may eventually grow into a minor solution. At worst, it's a distraction from reducing emissions — and plays right into the fossil fuel industry's hands.
bbc.co.uk 14/9/2021 Climate change: Young people very worried – survey-A new global survey illustrates the depth of anxiety many young people are feeling about climate change. By Roger Harrabin
bbc.co.uk 14/9/2021 Climate change: Young people very worried – survey-A new global survey illustrates the depth of anxiety many young people are feeling about climate change. By Roger Harrabin
…2Nearly 60% of young people approached said they felt very worried or extremely worried. More than 45% of those questioned said feelings about the climate affected their daily lives. Three-quarters of them said they thought the future was frightening. Over half (56%) say they think humanity is doomed. Two-thirds reported feeling sad, afraid and anxious. Many felt fear, anger, despair, grief and shame – as well as hope. One 16-year-old said: "It's different for young people – for us, the destruction of the planet is personal."
The survey across 10 countries was led by Bath University in collaboration with five universities. It's funded by the campaign and research group Avaaz. It claims to be the biggest of its kind, with responses from 10,000 people aged between 16 and 25.
---
phys.org/news 17/9/ 2021 Animals died in 'toxic soup' during Earth's worst mass extinction: A warning for today
…"The three main ingredients for the toxic soup are accelerated greenhouse gas emissions, high temperatures, and abundant nutrients. The volcanic eruptions provided the first two, while sudden deforestation caused the third. When the trees were wiped out, the soils bled into the rivers and lakes, providing all the nutrients that the microbes would need. When the researchers compared the fossil records of different warming-related mass extinctions, the team found extremely similar fossil records. This implicates deadly microbial blooms as repeat offenders of freshwater extinctions during extreme warming events. Today, humans have been following this recipe, and freshwater microbial blooms have been on the rise, illustrating how important the geosciences are in understanding the past in ways that offer crucial context for understanding contemporary changes in climate."…
---
irishtimes 31/7/2021 Time to stop seeing climate action through the lens of economics – Only a bold political vision will prepare the public for the measures that are needed by Shana Cohen
---
economist.com/ 24/7/2021 a-3degc-world-has-no-safe-place
---
ecowatch.com Warning of Civilizational Collapse Was on Point, New Study Finds by Olivia Rosane
The Limits to Growth, sparked controversy and concern when it first emerged. But now, new research published in the Yale Journal of Industrial Ecology says we are currently on track to living out its warnings.
"The MIT scientists said we needed to act now to achieve a smooth transition and avoid costs," Gaya Herrington, the author of the new study, told The Guardian. "That didn't happen, so we're seeing the impact of climate change."
---
theguardian.com 25/7/2021 Yep, it's bleak, says expert who tested 1970s end-of-the-world prediction – A controversial MIT study from 1972 forecast the collapse of civilization – and Gaya Herrington is here to deliver the bad news
At a UN sustainability meeting several years ago, an economic policy officer came up to Gaya Herrington and introduced himself. Taking her name for a riff on James Lovelock's earth-as-an-organism Gaia hypothesis, he remarked: "Gaya – that's not a name, it's responsibility." Herrington, a Dutch sustainability researcher and adviser to the Club of Rome, a Swiss thinktank, has made headlines in recent days after she authored a report that appeared to show a controversial 1970s study predicting the collapse of civilization was – apparently – right on time.
---
dezeen.com 7/5/2021 Planting trees "doesn't make any sense" in the fight against climate change say experts – Afforestation is an unreliable way of sequestering atmospheric carbon, according to several key figures interviewed by Dezeen as part of our carbon revolution series. While trees capture huge amounts of carbon, they need to remain growing for a long time to be effective carbon stores, experts say. – by Marcus Fairs
---
theguardian.com 28/6/2021 New climate science could cause wave of litigation against businesses – study
Experts say scientific advances are making it easier to attribute the damages of climate breakdown to companies' activities by Fiona Harvey
…"Businesses could soon be facing a fresh wave of legal action holding them to account for their greenhouse gas emissions, owing to advances in climate science, experts have warned. More than 1,500 legal actions have already been brought against fossil fuel companies whose emissions over decades have played a major role in building up carbon in the atmosphere. Last month, in a shock ruling, the multinational oil and gas company Shell was ordered by a court in the Netherlands to cut its emissions by 45% in the next decade. Shell has said it will appeal against the decision. Earlier this month, a Belgian court ruled that the government's failure to tackle the climate emergency was an infringement of human rights. Rupert Stuart-Smith, researcher at the Oxford University sustainable law programme, and lead author of a new study, said more such cases were likely to be successful, as new science was making it possible to attribute the damages of climate breakdown more directly to companies' activities." …
---
theguardian.com 23/6/2021 IPCC steps up warning on climate tipping points in leaked draft report
Climate scientists are increasingly concerned that global heating will trigger tipping points in Earth's natural systems, which will lead to widespread and possibly irrevocable disaster, unless action is taken urgently. The impacts are likely to be much closer than most people realise, a a draft report from the world's leading climate scientists suggests, and will fundamentally reshape life in the coming decades even if greenhouse gas emissions are brought under some control.
---
theguardian.com 23/6/2021 Cloud spraying and hurricane slaying: how ocean geoengineering became the frontier of the climate crisis – Around the world, dozens of ingenious projects are trying to 'trick' the ocean into absorbing more CO2. But critics warn of unforeseen consequences
---
carbonbrief.org 21/6/2021 Why CO2 removal is not equal and opposite to reducing emissions by Kirsten Zickfeld,
…"But how about the "net" aspect? The logic is that residual emissions of CO2 – and other greenhouse gases that are challenging or very costly to eliminate – can be balanced by removing CO2 directly from the atmosphere and storing it for the long term. This can be achieved by enhancing natural carbon "sinks" that remove CO2 from the atmosphere – for example, by planting trees or restoring peatlands and mangrove forests. Other ways to remove CO2 from the atmosphere include capturing CO2 from bioenergy plants or engineered methods that capture CO2 directly from the atmosphere and store it underground or in products.
An assumption that is commonly made when balancing a CO2 emission with a CO2 removal is that "one tonne in equals one tonne out" – that is, that the behaviour of the climate system in response to emissions and removals is "symmetrical". But this assumption had not been tested, and – while likely reasonable for small emissions and removals – it seemed unlikely to hold for larger emissions and removals due to the non-linear nature of the Earth system."….
---
theconversation.com/ 10/6/2021 G7: why major economies are delaying a break with the fossil fuel industry by George Ferns, Marcus Gomes
While the leaders of the world's richest countries agree in theory on the need to reach net zero emissions by 2050 at the latest, they remain faithful to a fossil fuel industry reluctant to substantively change its business model. A recent report by the International Energy Agency, a typically conservative advisory body, argued for an immediate ban on new fossil fuel projects. But investments by oil, gas and coal companies into finding new sources continue, as does industry lobbying to undermine regulation.
The environment ministers of the G7 countries committed to end funding for new overseas coal projects by the end of 2021. But 51% of their COVID-19 economic recovery funds – a total of US$189 billion (£133 billion) – paid between January 2020 and March 2021 were earmarked as financial aid for the fossil fuel industry. Worse, US$8 of every US$10 dedicated to non-renewable energy was paid with no conditions on these companies to reduce their emissions.
Why does it seem so hard for G7 leaders to match their words with action when it comes to the fossil fuel industry?
---
economist.com 12/6/2021 How green bottlenecks threaten the clean energy business – A great green investment boom is under way, but supply-side problems are underappreciated
… "The figures for the coming decade are mind-concentrating. To stay on track for net zero, by 2030 annual production of electric vehicles needs to be ten times higher than it was last year and the number of roadside charging stations 31 times bigger. The installed base of renewable-power generation needs to rise three-fold. Global mining firms may have to raise the annual production of critical minerals by 500%. Perhaps 2% of America's land will have to be blanketed in turbines and solar panels. … Today only 22% of the world's greenhouse-gas emissions are covered by pricing schemes, and those schemes are not joined up. Green bottlenecks are a sign that decarbonisation is at last shifting from being a theoretical idea to a reality. A powerful push is now needed to help make the revolution happen."
---
insideclimatenews.org/ 6/2021 Greenhouse Gas Emissions From Food Production are Far Greater Than Previous Estimates Suggest – A new study finds that if all parts of the food system are included, food production is responsible for as much as 40 percent of global emissions. By Georgina Gustin
---
bbc.com 6/2021 The world's forgotten greenhouse gas By Ula Chrobak – Emissions of the greenhouse gas commonly known as laughing gas are soaring. Can we cut emissions from its greatest anthropogenic source? I
In the world's effort to cut greenhouse gas emissions, the source of our food is coming into the spotlight. There's good reason for that: Agriculture accounts for 16 to 27% of human-caused climate-warming emissions. But much of these emissions are not from carbon dioxide, that familiar climate change villain. They're from another gas altogether: nitrous oxide (N2O). Also known as laughing gas, N2O does not get nearly the attention it deserves, says David Kanter, a nutrient pollution researcher at New York University …"It's a forgotten greenhouse gas," he says.
Yet molecule for molecule, N2O is about 300 times as potent as carbon dioxide at heating the atmosphere. And like CO2, it is long-lived, spending an average of 114 years in the sky before disintegrating. It also depletes the ozone layer. In all, the climate impact of laughing gas is no joke. Scientists at the Intergovernmental Panel on Climate Change (IPCC) have estimated that nitrous oxide comprises roughly 6% of greenhouse gas emissions, and about three-quarters of those N2O emissions come from agriculture.
But despite its important contribution to climate change, N2O emissions have largely been ignored in climate policies. And the gas continues to accumulate. A 2020 review of nitrous oxide sources and sinks found that emissions rose 30% in the last four decades and are exceeding all but the highest potential emissions scenarios described by the IPCC. Agricultural soil – especially because of the globe's heavy use of synthetic nitrogen fertiliser – is the principal culprit.
---
bbc.co.uk/ 27/5/2021 It's becoming more likely that a key global temperature limit will be reached in one of the next five years.
A major study says by 2025 there's a 40% chance of at least one year being 1.5C hotter than the pre-industrial level. That's the lower of two temperature limits set by the Paris Agreement on climate change. The conclusion comes in a report published by the World Meteorological Organization (WMO). The analysis is based on modelling by the UK Met Office and climate researchers in 10 countries including the US and China. In the last decade, it was estimated that the chance of any one year reaching the 1.5C threshold was only 20%. This new assessment puts that risk at 40%. Leon Hermanson, a senior Met Office scientist, told BBC News that comparing projected temperatures with those of 1850-1900 shows a clear rise. "What it means is that we're approaching 1.5C – we're not there yet but we're getting close," he said. "Time is running out for the strong action which we need now."
---
nature.com 2-2020 The certainty of uncertainty by Mark Buchanan
A recent meeting on climate policy in Madrid ended in failure, as the biggest CO2 polluters, led by the United States, blocked a non-binding measure intended to help reduce greenhouse gas emissions. Developed nations appear united in their determination not to act on climate change, despite the growing concern of a majority of people around the world. Projections of future fossil fuel use made by nations themselves imply that emissions will keep rising at least through 2030 (https://go.nature.com/364Xgrb). Even supposing that emissions will begin falling then is probably optimistic.
Part of the problem is that self-interested parties know that the costs of inaction will largely fall on people in the future, and those individuals — with the exception of the youth movement inspired by Greta Thunberg — lack a voice in the debate. Of course, much of the delay is also the direct result of a decades-long propaganda campaign funded by fossil fuel interests and right-wing media, which has convinced many people that the science of climate is both unsettled and highly uncertain. Too many people believe that we don't really know much at all, and so we lack any sound basis for action.
Perhaps scientists have been too cautious in countering this view? Over a decade ago, NASA climate scientist James Hansen criticized his fellow scientists for what he called their "scientific reticence". Science requires doubt and self-criticism, as well as brutal honesty about what one knows and does not know. That's a good thing, of course. Yet Hansen argued that the inherently cautious culture of science has led many researchers to express their conclusions about climate change risks in unrealistically mild terms, with too great an emphasis on uncertainties, thereby tempting complacency among the wider public.
Scientists, perhaps, could have spoken more clearly about 'uncertainty', which means one thing in science, and something else in ordinary language. Even in a field as ridden with uncertainty as climate, there are many things we know with high confidence. For example, we have good knowledge of how much global average temperatures will rise for any given increase in CO2. We know less about how much sea level will rise along the United States West Coast, or if rainfall in, say, South China will become more or less predictable.
When it comes to effective communication about uncertainty, research is beginning to help inform on the best strategies. In a recent study, for example, a team of researchers undertook an experiment with more than 1,000 individuals, testing how they responded to messages about climate risks which conveyed uncertainty in different ways. Specifically, they focused on sea level rise. Some individuals were told a single 'most likely' prediction of sea level rise by year 2100. A second set heard a most likely prediction, augmented with an upper and lower bound. And a third group were told a most likely value, but then heard further information about a 'worst case' scenario, and also a statement of why it is not possible to foresee the full costs and consequences of sea level rise. After all, these depend on other unknown factors such as how much more powerful and frequent future storms turn out to be.
---
carbonbrief.com 2020 Why carbon removal by Kirsten Zickfeld
---
carbonbrief.com 8-2020 Learning from the contentious history of 'carbon removal' – by Jens Friis Lund,
"Its prominence in global pathways derived from technologically focused integrated assessment models has spurred a growing scientific literature that explores the potential opportunities, risks and trade-offs of relying on CDR. This literature – even when it questions the assumptions and feasibility constraints underpinning large-scale CDR – tends to frame the various CDR approaches as novel and untested, and mostly focuses on hypothetical future scenarios. Yet CDR has a longer and, in many ways, more tangible history than this framing suggests – the lessons of which are largely overlooked in much of the current debate. In our new paper, published in WIREs Climate Change, we review this history and draw out some key lessons for scaling up implementation of CDR. …"…
---
nature.com 2019 Discrepancy in scientific authority and media visibility of climate change scientists and contrarians – A M Petersen, Emmanuel M. Vincent, Anthony LeRoy
"… we observe just a 1% excess visibility, which objectively demonstrates the crowding out of professional mainstream sources by the proliferation of new media sources, many of which contribute to the production and consumption of climate change disinformation at scale."
---
academia.edu 2016 Decoupling: A Key Fantasy of the Post-2015 Sustainable Development Agenda by Rob Fletcher, Crelis Rammelt
---
academictimes.com 5/2021 Ring the alarm bell': Heat from climate change has already killed hundreds of thousands by Zack Fishman
---
theguardian.com/ 4/2021 relentless-climate-crisis-intensified-in-2020-says-un-report – Pandemic had no effect on atmospheric CO2 levels but made impacts of global heating worse for millions
---
theverge.com 4/2021 The math isn't adding up on forests and CO2 reductions – Big polluters can hide behind forest offsets – By Justine Calma
---
theconversation.com 4/2021 there-arent-enough-trees-in-the-world-to-offset-societys-carbon-emissions-and-there-never-will-be-
---
bbc.co.uk 4/2021 Climate change: Shipping industry calls for new global carbon tax
---
academictimes.com 4/2021 economic-news-reporting-suffers-from-bias-toward-richest-americans/
---
theguardian.com 4/2021 wealthy-nations-failing-to-help-developing-world-tackle-climate-crisis
---
bbc.com/future 2020 is-it-wrong-to-be-hopeful-about-climate-change? By Diego Arguedas Ortiz
---
independent.co.uk 4/2021 Rapid retreat of glaciers leading world towards 'humanitarian crisis', says top scientist – Melt of glaciers in the Himalayas and South America could threaten water supply of hundreds of millions of people, says glaciologist Prof Jemma Wadham – by Daisy Dunne
---
rollingstone.com 3-2021 Now Is Our Last Best Chance to Confront the Climate Crisis – With Joe Biden in office, a serious plan to combat climate change is finally in our sights — but the clock is ticking, and there is no more room for error – by Jeff Goodall
The great danger is not climate denial. The great danger is climate delay. Instead of pushing for changes tomorrow, world leaders and CEOs like to make virtuous-sounding statements about what they will do in 2050. And then in 2050, they will make virtuous-sounding statements about what they will do in 2070. Climate scientist Zeke Hausfather calls this the "empty radicalism" of long-term goals.
---
theconversation.com 2019 "Threatening messages can capture the public's attention and create a sense of urgency, leading to a heightened level of concern," according to Climate Access, a non-profit research group. "But worry by itself is not an effective motivator for action, as it more often leads to resignation and hopelessness. … Instead, effectively engaging the public on climate change requires a careful calibration of messages framed around solutions, the urgency of the climate crisis and individuals' reasons for engaging or not engaging with the subject in the first place."
---
independent 5/4/2021 Extinction Rebellion announces 'wave' of action against banks over fossil fuel investments – Group accuses banks of playing 'deadly role' in climate crisis – by Harry Cockburn
Extinction Rebellion will focus its direct action protests on the banking sector over the coming weeks after the group targeted the Bank of England and branches of high street banks across the country over the bank holiday weekend, as it orchestrates a wave of demonstrations designed to highlight banks' role in the climate and ecological crises.
---
irishtimes.com 5/4/2021 Greta Thunberg: 'It just spiralled out of control' – As the Swedish environmental activist turns 18, what next for her 'we children' message? by Leslie Hook
"The corona pandemic brought nothing positive," she says bluntly. "The emissions reductions we could see were temporary and accidental … They didn't occur due to us actually trying to reduce emissions. So this has got nothing to do with climate action." But the pandemic does contain a lesson, she says: "It proves that the climate crisis has never once been treated as a crisis. It just puts it in a different light."
---
bbc.co.uk 31/3/2021 Climate change: Net zero targets are 'pie in the sky' By Matt McGrath
Sharp divisions between the major global emitters have emerged at a series of meetings designed to make progress on climate change. India lambasted the richer world's carbon cutting plans, calling long term net zero targets, "pie in the sky." Their energy minister said poor nations want to continue using fossil fuels and the rich countries "can't stop it". China meanwhile declined to attend a different climate event organised by the UK. …
---
news.sky.com 2/4/2021 Climate change has impacted agricultural productivity growth by 21% since 1960s
The impact of climate change on agricultural productivity is having a disproportionate effect on poorer, warmer countries.
---
reuters.com 4/2021 Exclusive: World Bank revises climate policy but stops short of halting fossil fuel funding by Valerie Volcovici, Andrea Shalal, Kate Abnett – A revised World Bank policy on climate change commits to making financing decisions in line with efforts to limit global warming, but stops short of promising to halt funding of fossil fuels – The plan is not final and must still be approved by the bank's board.
---
theguardian.com 24/3/2021 Big banks' trillion-dollar finance for fossil fuels 'shocking', says report – Coal, oil and gas firms have received $3.8tn in finance since the Paris climate deal in 2015 by Damian Carrington
"One bank after another is making solemn promises to become 'net zero by 2050'," said Johan Frijns, at BankTrack, part of the coalition behind the report. "But there exists no pathway towards this laudable goal that does not require dealing with bank finance for the fossil fuel industry right here and now."
Group aims to highlight financial sector's role in climate crisis through escalation in tactics this week by Matthew Taylor
---
bbc.com Who is really to blame for climate change?
" … Fossil fuel firms clearly play a major role in the climate problem. A major report released in 2017 attributed 70% of the world's greenhouse gas emissions over the previous two decades to just 100 fossil fuel producers. An update last year outlined the top 20 fossil fuel firms behind a third of emissions.
But it is not only through their ongoing extraction of fossil fuels that these companies have had such a huge impact on climate action. They have also worked hard to shape the public narrative. In 2015, an investigation by US website Inside Climate News revealed that the oil firm Exxon knew about climate change for decades and led efforts to block measures to cut emissions.
Amy Westervelt is a climate journalist who has spent years exploring the thinking behind big oil's strategy over the past decades, most recently in her podcast Drilled. She says there was a point in the late 1970s when oil companies in the US like Exxon appeared to be embracing renewables and increasingly viewing themselves energy companies, rather than just oil companies. But this mindset had changed completely by the early 1990s due to a series of oil crises and changing leadership, she says. "There was this real sort of shift in mindset from 'If we have a seat at the table, we can help to shape the regulations,' to 'We need to stop any kind of regulation happening.'"
Fossil fuel firms have since done "a great job" of making any kind of environmental concerns seem elitist, adds Westervelt. For example, Rex Tillerson, the Exxon chief executive who went on to be US secretary of state, repeatedly argued that cutting oil use to fight climate change would make poverty reduction harder. "They have this talking point that they've been trotting out since the 1950s, that if you want to make that industry cleaner in any way, then you're basically unfairly impacting the poor. Never mind that the costs don't actually have to be offloaded on to the public."
At the same time, fossil fuel companies have long employed PR tactics in a bid to control the narrative around climate change, says Westervelt, pushing doubts about the science and working to influence how people understand the role of fossil fuels in the economy. "They have put a real emphasis on creating materials for social studies, economics and civics classes that all centre the fossil fuel industry," says Westervelt. "I think there's a real lack of understanding about just how much that industry has shaped how people think about everything, and very deliberately so."
It's also worth remembering that the very concept of a personal carbon footprint was popularised by a wide-reaching 2005 BP media campaign. "It was the most brilliant example of 'It's your fault, not ours,'" says Westerwelt. "It's a framework that serves them really well because they can just say 'Oh well, if you really care then why are you driving an SUV?'"
….But even viewing climate inaction through this lens of power, those who have less of it can still act to confront it. Climate activist Greta Thunberg embodied this when in 2019 she told elites gathered in Davos that many of them were to blame for the climate crisis by sacrificing "priceless values" to "continue making unimaginable amounts of money". As one academic essay puts it: "To avoid [confronting] power is to risk condoning a system that is inherently unsustainable and unjust."
---
themillions.com 2020 Giving Voice to Shame and Fear: The Millions Interviews Jonathan Franzen Jianan Qian
"There is infinite hope, only not for us." – Jonathan Franzen began his New Yorker piece, "What if We Stop Pretending" with this quote from Kafka. Franzen was referring, of course, to climate change, a topic he has been obsessed with for several years. His outlook was depressing: we wouldn't be able to save our planet, and the symbolic expressions of unrealistic hope—ride your bike to work and the climate won't get hotter—only served to deny the imminent disaster.
Not surprisingly, he was butchered on social media soon afterwards. People called him a "climate fatalist." …
JF: It's too early to say. My thinking about our climate situation has been evolving over the last six years. The point I finally came to, last summer, is that the fabric of our world is very fragile. Political institutions are fragile; international relations are fragile; the global economy is fragile; the natural world and its systems are fragile. All these systems are going to be hugely stressed in the coming decades, as the climate worsens dramatically. Out of that recognition, I've come to a greater appreciation of the value of local community. …" …
---
newyorker.com 2019 What If We Stopped Pretending? The climate apocalypse is coming. To prepare for it, we need to admit that we can't prevent it. By Jonathan Franzen
There is infinite hope," Kafka tells us, "only not for us." This is a fittingly mystical epigram from a writer whose characters strive for ostensibly reachable goals and, tragically or amusingly, never manage to get any closer to them. But it seems to me, in our rapidly darkening world, that the converse of Kafka's quip is equally true: There is no hope, except for us.
I'm talking, of course, about climate change. The struggle to rein in global carbon emissions and keep the planet from melting down has the feel of Kafka's fiction. The goal has been clear for thirty years, and despite earnest efforts we've made essentially no progress toward reaching it. Today, the scientific evidence verges on irrefutable. If you're younger than sixty, you have a good chance of witnessing the radical destabilization of life on earth—massive crop failures, apocalyptic fires, imploding economies, epic flooding, hundreds of millions of refugees fleeing regions made uninhabitable by extreme heat or permanent drought. If you're under thirty, you're all but guaranteed to witness it. …
---
theguardian.com 21/3/2021 Climate fight 'is undermined by social media's toxic reports' – Scientists warn that Nobel summit and long-term decisions to save the planet are at risk from targeted attacks online
---
---
paecon.net 2021 From finance to climate crisis: An interview with Steve Keen by Jamie Morgan
… " … Jamie: This raises the obvious question, what took you from an interest in financial instability and debt processes – Hyman Minsky etc. – to climate change and ecological breakdown? Clearly, these are subject matters that no concerned citizen of the world can now afford to be ignorant of. But superficially, at least, from an academic perspective, this seems a strange sideways step.
Steve: There's a commonality to the issues though, in that both involve the consequences of pushing an unsustainable trend. In financial instability, it's the level of private debt compared to GDP. In climate change, it's the load humanity is putting on the planet relative to the capacity of the biosphere to renew itself. That comparison calls for a chart (or two). Figure 1 shows correlation not causation, but the exponential trend in both series simply can't continue – and mainstream economics fails to understand both of these. For the former (finance), mainstream economics deludes itself with the now demonstrably false "Loanable Funds" model of banking to argue that the level and rate of growth of private debt are irrelevant to macroeconomics. For the latter (climate), the truly delusional work of Nordhaus and friends has pretended that climate change is no more than a change in the weather.
Neoclassical economists profoundly misunderstand both processes. Private debt to GDP and CO2 in the atmosphere are stocks, something that Neoclassical economics is very poorly equipped to handle. Its models are all about flows, like output, and rates, like the unemployment rate, the inflation rate, but they rarely connect to levels (except say from output to investment to the capital stock and back), and certainly not in ways that can threaten the production system if they are too high. But if there is a level of private debt that is too high, that implies the need to control the rate of change of private debt; ditto for CO2 in the atmosphere. You only get dangerous levels of both private debt and atmospheric CO2 if the rate of change of these two stocks is positive for too long. Figure 2 below shows the annual change in debt on one axis, and the decadal change in CO2 on the other. Both have been too positive for too long. The special danger with climate change is that, while it's relatively easy to reverse the growth of private debt, either unintentionally (as in the USA's three great crises – the Panic of 1837, the Great Depression and the Great Recession), or by design (as in my proposal for a Modern Debt Jubilee), it's very difficult to reduce CO2. …" …
read or download PDF at paecon.net
---
wired.com 2019 Sorry, But We Can't Just Hack Our Way Out of Climate Doom – It's clear that we have to suck carbon out of the atmosphere to avoid catastrophic warming. That alone won't fix the mess we've made. by Matt Simon
THE RELEASE YESTERDAY of the Intergovernmental Panel on Climate Change's report on land use has resurfaced an uncomfortable reality. On top of everything it says about how we must fundamentally change our food system, cutting emissions alone is not enough to stave off disaster—we as a species have to suck CO2 out of the atmosphere to avoid catastrophic warming. While the report more recommends bolstering natural systems like forests and peatlands, which have stored carbon without our help for hundreds of millions of years, researchers are working on more drastic solutions, such as giant machines that hoover up CO2. Some scientists argue we might even have to geoengineer …
---
academia.edu 2020 Decarbonisation – by Richard Lane
This chapter argues that critiques levelled at the anthropocene – that it prematurely settles who the 'we' are that bear both the historic responsibility and the brunt of the uneven impacts of contemporary environmental crises – also need to be made of decarbonisation as a goal of global climate governance. It maintains that decarbonisation should, similarly to the anthropocene, be thought of as 'bad universal', that in fact currently forecloses the difficult political work necessary to address the multiple complex issues of globe-spanning climate change. Its apparently positive conceptual content (the absolute necessity to reduce global emissions) is written precisely through the silences it imposes on the broad array of conflicts, oppressions and impacts that have historically lead to these emissions through the development of fossil-fuel based capitalism. I outline here the processes of exclusion, exploitation and incoherence through which decarbonisation has been developed, institutionally stabilised and propagated, and highlights the incoherencies that this results in. Through this process it aims to point towards the conditions required for an emancipatory and truly transformatory politics of decarbonisation.
---
irishtimes.com 02/2021 The New Climate Wars: How vested interests delay action – Book review: A punchy, provocative, but also deeply personal take on the crisis by a respected voice John Gibbons
"Michael Mann reserves special scorn for defeatism: "Doomism today arguably poses a greater threat to climate action than outright denial." There are many standout moments in climatologist Michael Mann's new book, but perhaps the most salient is a chart reproduced from a 1982 internal Exxon document. With uncanny accuracy, the oil company's own scientists four decades ago were able to predict the likely levels of atmospheric carbon dioxide, a key greenhouse gas, by 2020, as well as its extremely dangerous impact on global temperatures. What happened next is what the author describes, with some justification, as "the most immoral act in the history of human civilization". Rather than raising the alarm, the fossil fuel industry sought instead to protect its profits by spreading disinformation, including funding vicious personalised attacks on individual scientists. …"
---
scientificamerican.com, 01/2021 Climate Deniers Shift Tactics to 'Inactivism' – Fossil fuel interests are trying to blame climate change on individuals while also sowing division, says Michael Mann, one of their prime target – by Richard Schiffman
Climate Deniers Shift Tactics to 'Inactivism' – Fossil fuel interests are trying to blame climate change on individuals while also sowing division, says Michael Mann, one of their prime targets. The deniers have not given up the battle, however. They have merely changed their tactics, Mann contends in his book The New Climate War: The Fight to Take Back Our Planet. He spoke with Scientific American about the book and why he believes that the world is finally getting ready to move more aggressively on the climate crisis. …
---